Classic Gear: Classic Effects
Crybaby (Wah-Wah Pedal)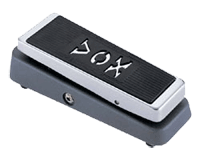 The Wah Pedal is often the first tool added to a budding guitarist's arsenal, the old standby for waka-jawaka rhythms or a classic Hendrix sound. Moving the pedal up and down alters the tone, specifically the filter, of your sound. Playing guitar leads while adjusting the pedal can give the notes an expressive, mouthy quality, almost like the guitar was trying to say the word 'wah' or 'wow.' Jimi's guitar style is one of the smoothest in history, but he couldn't have pulled off Voodoo Child without a wah-wah.
Audio clip: Adobe Flash Player (version 9 or above) is required to play this audio clip. Download the latest version here. You also need to have JavaScript enabled in your browser.
Jimi Hendrix – Voodoo Child
Space Echo (Tape Delay)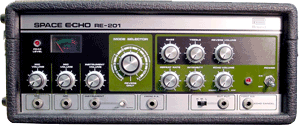 A beautifully designed effects box, the Space Echo RE-201 is the most well-known and sought after tape delay. A delay or echo unit continuously records whatever sound you are feeding in there, and repeats it back, creating an echo that is adjustable via speed and depth controls. Modern effects units accomplish this via digital recording, but what makes tape delay so cool is that it actually records and plays back pure analog from a looping piece of magnetic tape.
The Space Echo was king of a long line of tape delay units including the Echoplex, Binson Echorec, Meazzi Echomatic and many other fine specimens. Check out the Binson Echorec all over Gandalf's self-titled debut, notably the vocal for Golden Earrings.
Audio clip: Adobe Flash Player (version 9 or above) is required to play this audio clip. Download the latest version here. You also need to have JavaScript enabled in your browser.
Gandalf – Golden Earrings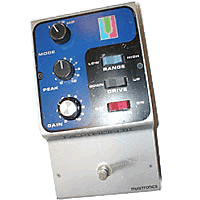 Mu-Tron III (Envelope Filter)
An Envelope Filter (or Follower) is a hard effect to describe sonically, but easy to place categorically. It's kind of an instant-funk stomp-box that supplies an automatic 'wah' to your playing. This effect was developed in 1972, by Mike Beigel and Aaron Newman when they decided to see if they could create new products from parts of the synthesizer. Stevie W first used the Mu-Tron in combination with his clavinet for Higher Ground and Jerry Garcia also owes a large debt to this little box for a piece of his signature guitar sound.
Audio clip: Adobe Flash Player (version 9 or above) is required to play this audio clip. Download the latest version here. You also need to have JavaScript enabled in your browser.
Grateful Dead – Shakedown Street
Eventide Harmonizer (Harmonizer)
Tony Visconti famously described the Eventide Harmonizer to David Bowie as an effect that "fucks with the fabric of time." This was one of the first digital effects boxes and was capable of changing the pitch of a signal without sacrificing the tempo. This meant you could sing or play guitar into the Eventide, and what you played could be doubled at a higher or lower pitch (harmonized). Get fancy with the tweaking and all manner of wild, early-digital sounds were possible.
Tony Visconti kept this machine a secret when producers tried to ask how he got such unique drum sounds on Low, the first record to use the Eventide. Crunchy drums aside, it's clear his use of this awesome rack unit was pretty liberal all over Low.
Audio clip: Adobe Flash Player (version 9 or above) is required to play this audio clip. Download the latest version here. You also need to have JavaScript enabled in your browser.
David Bowie – Speed Of Life
Also Recommended