Classic Gear: Guitar Amps
Young aspiring musicians won't narrow their eyes on some guitar amp and dream of one day becoming a rock star. That inspiration will strike first from the gleaming make of some classic guitar or keyboard, not the big ugly box they're leaning on. But without a proper tribute to the beastly speaker boxes that made the sound of rock come alive, our classic gear series simply cannot continue.
The first thing you should know about these amps is they run on vacuum tubes. Tube Amps produce a warmer sound than Solid-State amplifiiers. In my opinion this is almost as significant as the difference between analog and digital. You can tell if it's a tube amp by looking in the back for those big light bulb-like tubes, or if it takes a little while to warm-up after you click the 'on' switch. There are merits to Solid-State technology of course, but early in the 60s you had no other choice but a tube, lending to its revered and classic status.
Vox AC30
Visually gorgeous and beautiful in its sound, the AC30 must top any list of classic guitar amps. The AC30 was strongly associated with the British Invasion; the Vox company was started in Kent, England and quickly found itself providing amps to the main bloodline of 6os rock n'roll. Much of the Vox's characteristic sound is attribitued to its revolutionary Celestion loudspeakers, but the real kicker on this amp is the "Top Boost" channel, which adds a bright distortion in the style of a Kinks guitar sound. Everybody used a Vox in those days: The Beatles, The Kinks, The Stones, The Yardbirds, Queen, it's still highly regarded today and was used by modern legends like Paul Weller and Kurt Cobain.

According to this history of the AC30, the Shadows had a mutally beneficial relationship with this amp during its roll-out in 1959/60. Here's a cut from Britain's most influential rock instrumental album:
Audio clip: Adobe Flash Player (version 9 or above) is required to play this audio clip. Download the latest version here. You also need to have JavaScript enabled in your browser.
The Shadows "Theme From A Filleted Place"
Fender Twin Reverb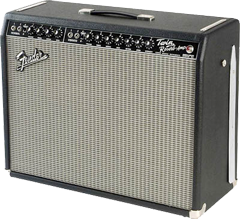 Another legendary guitar amp, the Twin Reverb was often paired with a Rhodes keyboard as well. Better known in their silverface models, the blackface is pictured at right as these were produced first between 1963 and 1967. Other classic models from Fender include the Deluxe Reverb or the Princeton Reverb, but the Twin remains its most iconic, resting at the apex of perfect guitar amp design.
One of the great things about the Twin Reverb was the built-in spring reverb unit. If you were to kick the amp or pick it up and drop it or shake it, you get this awesome storm effect from the spring clanging around. Bands would often do this during the melt down of a live show; it's a classic easter egg effect. You can hear Roy Nichol's Tele & Twin combination on Merle Haggard's Okie From Muskogee live album (source).
Audio clip: Adobe Flash Player (version 9 or above) is required to play this audio clip. Download the latest version here. You also need to have JavaScript enabled in your browser.
Spring Reverb Demo on Farfisa Compact by Brendan
Audio clip: Adobe Flash Player (version 9 or above) is required to play this audio clip. Download the latest version here. You also need to have JavaScript enabled in your browser.
Merle Haggard "Okie From Muskogee (Live)"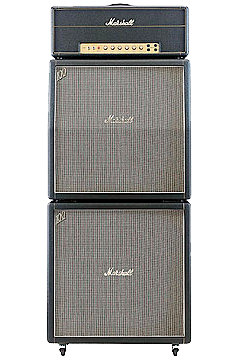 Marshall Plexi
Sometimes a combo amp like those above had the right sound, but couldn't visually communicate the ferocious roar contained within. Enter the Marshall Stack. A Marshall head amplifier resting atop a speaker cabinet (or two) has an image that immediately communicates "loud." Legend has it that the Marshall stack was invented when Pete Townshend asked Jim Marshall to build him a "weapon" to overpower rowdy audiences. Marshalls from the mid to late 60s had plexiglass faceplate covers, which earned them the "Plexi" nickname. The Marshall stack is the preferred rig of guitar gods like Jimi Hendrix and Pete Townshend and the classic solution for the guitarist who wants it as big and loud as possible. As Spinal Tap fans know, Nigel Tufnel had his Marshall's volume knob modded to go "up to 11."
Audio clip: Adobe Flash Player (version 9 or above) is required to play this audio clip. Download the latest version here. You also need to have JavaScript enabled in your browser.
The Who "The Ox"
Honorable Mentions
Fender Bassman
Orange AD-50
Mesa/Boogie Mark IV Combo
Ampeg B-15
Dumble Overdrive Special
The Beatles with their AC30s "She Loves You"
Also Recommended