Classic Gear: The Rickenbacker 12-String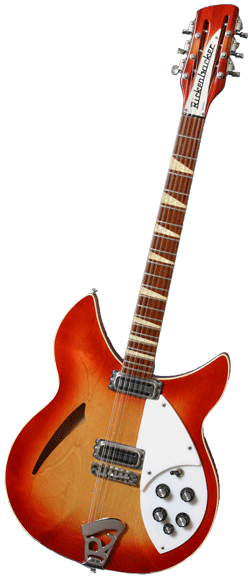 This is that thin wild sound. The one and only instrument to associate with terms like Byrdsian and jangly. An unmatched guitar in design, craftmanship, innovation, and sound. Rickenbacker makes a fine guitar with six strings, but 12 is the magic number.
Playing a 12-string guitar doesn't mean you have to learn how to play with six more strings, it's just that the strings are set in pairs. It's played exactly the same as a regular guitar, but your finger is pressing down two strings at once, each tuned to different octaves.
Opposed to acoustic 12-string guitars (and mandolins, which are similarly designed with 4 pairs of strings), Rickenbackers are designed with the lower string on top of the high string, lending to its characteristic sound.
One of the lesser known features of these guitars is the Ric-O-Sound kit, which allows the pickups to split the signal of the guitar to two different outputs. Imagine plugging into a rich Fender Twin Reverb and patching the 2nd line through a Space Echo or a cheap old fuzzbox. The effect is like having two distinct guitar tones playing in exact synchronicity.
Lastly, just look at the thing. Damn beautiful. The twisted and tech-looking headstock, modernist slash f-hole, tiered white pick guard, and the signature "R" in the bridge. Pictured is the classic red Fireglo color scheme, one of many often changing themes in the Rickenbacker legacy, the other more famous colors being Mapleglo (Byrds) and Jetglo (Lennon).
Examples
George Harrison got his hands on the 2nd 12-string Rickenbacker ever made. The Beatles had access to every instrument their imaginations could conjure up so it's no surprise they're on top of the classic gear front again. Leads like the one in Hard Day's Night tuned everybody in to the Rick's wild sound:
The Beatles – A Hard Day's Night
Audio clip: Adobe Flash Player (version 9 or above) is required to play this audio clip. Download the latest version here. You also need to have JavaScript enabled in your browser.
Pete Townshend was an avid Rickenbacker user and one of the best rhythm guitarists of all time. This is a full example of the raucous rhythmic power of the 12er, with an excellently brief solo. The Who's debut is too great for words:
The Who – I Can't Explain
Audio clip: Adobe Flash Player (version 9 or above) is required to play this audio clip. Download the latest version here. You also need to have JavaScript enabled in your browser.
The Byrds are the quintessential Rick band. Roger McGuinn is widely known as the king of the Rickenbacker 12-string. John Coltrane's saxophone was inspiration to the devastating solo on this classic Byrds cut. Is he using the Ric-O-Sound on this one?
The Byrds – Eight Miles High
Audio clip: Adobe Flash Player (version 9 or above) is required to play this audio clip. Download the latest version here. You also need to have JavaScript enabled in your browser.
The Byrds may have owned the gleaming mercury sound of this guitar (actually a key component in defining the word 'jangle'), but they didn't trademark it, dammit! Let's dive back under the radar with a great song from Instant Orange's excellent 1973 lp:
Instant Orange – Plight of The Marie Celeste
Audio clip: Adobe Flash Player (version 9 or above) is required to play this audio clip. Download the latest version here. You also need to have JavaScript enabled in your browser.
Also Recommended