Classic Gear: The Theremin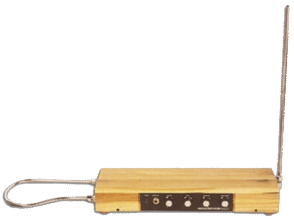 The Theremin was one of the first electronic instruments and the only musical instrument that is played without being touched. The looping antenna on the left controls volume, and the straight antenna on the right controls pitch.
When you move your hand closer to the pitch antenna, the sound will rise from a low tone to a high tone, releasing a deafening squeal should you touch it. For the volume antenna, moving your hand closer will soften the sound in amplitude and touching it will cut the sound off entirely. Knobs typically control things like the tuning of the instrument and timbre of the sound (sine wave or triangle wave). For futher clarification, take a look at this short youtube demo.
The device was invented by Russian scientist, Léon Theremin, in 1919 and has enjoyed a life of relative novelty, often relegated to scary sounds records and sci-fi movie soundtracks. It was notably used in the soundtrack of movies such as Spellbound and The Day The Earth Stood Still performed by Dr. Samuel Hoffmann. Other artists have fully exploited the instrument's expressive range, similar to that of a cello or violin, in classical music (see Clara Rockmore below).
For many years, theremins were available as DIY kits in the back pages of boy scout magazines and music tech rags and thankfully they are still widely available. Robert Moog has long championed this simple electronic instrument and over the years has produced many of the most beautiful models, in completed or kit form.
For those interested in the theremin, electronic music, or great films in general, I cannot recommend the 1993 documentary Theremin: An Electronic Odyssey enough. It is more than the details of an electronic instrument but a story about love, devotion, and art. Highly recommended.
Examples
The most common example of the theremin's use in pop music is actually not a real theremin. Paul Tanner performed the memorable "theremin" lines on his Tannerin or electro-theremin which was a mechanically controlled oscillator that shared a similar sound to the theremin, but was considerably easier to play. Matched with cellos digging out hard triplets, the Tannerin helped create one of the most interestingly produced choruses in pop history:
Audio clip: Adobe Flash Player (version 9 or above) is required to play this audio clip. Download the latest version here. You also need to have JavaScript enabled in your browser.
The Beach Boys – Good Vibrations
For Between The Buttons, Brian Jones brought some very basic theremin, reminiscent of amplifier feedback, to this pounding Stones track:
Audio clip: Adobe Flash Player (version 9 or above) is required to play this audio clip. Download the latest version here. You also need to have JavaScript enabled in your browser.
The Rolling Stones – Please Go Home
The same Dr. Hoffman mentioned above performed theremin for two tracks on Capt. Beefheart's debut. P.S. if you dig this track don't miss these videos containing spectacular live footage of the Magic Band.
Audio clip: Adobe Flash Player (version 9 or above) is required to play this audio clip. Download the latest version here. You also need to have JavaScript enabled in your browser.
Captain Beefheart & His Magic Band – Electricity
And now, the best for last.
Clara Rockmore is the premiere theremin artist. She worked with Leon Theremin in modifying the Theremin to suit her style of classical performance, and even devised her own fingering techniques to master the delicate pitch regions of the instrument. Her playing is one of the most moving and beautiful things I have ever seen or heard.
(Find a track and a great moka mix here)
Clara Rockmore performs "The Swan" (Saint-Saëns)
[youtube]http://youtube.com/watch?v=pSzTPGlNa5U[/youtube]
Also Recommended