Coloured Balls "Ball Power"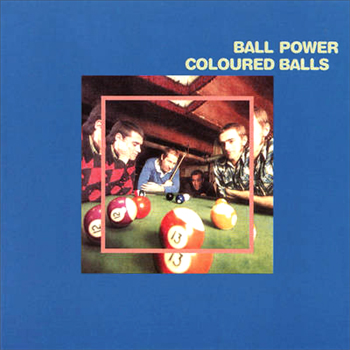 Coloured Balls were one of the best pure rock n roll groups to emerge from the early 70's Australian scene.  Sure, The Saints and Radio Birdman stayed together longer and released a slew of fine albums during the punk era but it was the Coloured Balls who pioneered the proto punk sound earlier in the decade.  Their wildcard was Lobby Loyde (also known as John Barrie Lyde), Australia's premier guitar hero (detractors must check out his live at Sunbury performance of "G.O.D." – from Aztec's Ball Power reissue) whose pivotal roles in beat/psych/blues rock groups The Purple Hearts, The Wild Cherries and Billy Thorpe's Aztecs made him a major home-grown star down under.  Ball Power is not only the Coloured Balls' greatest album but also the finest music of Lobby Loyde's long, fabled career.
Ball Power, released in 1973, favorably recalls the latter day MC5 or the Pink Fairies from their great Kings of Oblivion LP.  The best moments on Ball Power are transcendent.  "Human Being," the album's lone classic, is a blistering hard rock masterpiece notable for its crunching buzz saw guitars and bludgeoning rhythm section.  "That's What Mama Said" is essentially "Human Being" drawn out to 10 minutes but this time around Coloured Balls utilize a foot-controlled Theremin and lots of guitar soloing/guitar noise (progressive raunch).  Other good ones are "Won't You Make Up Your Mind," which sounds like anarchy in the UK before there was such a thing, the powerful boogie rock of "Hey! What's Your Name" and "Something New," a hard psych number with phased guitar work.  Even the lesser cuts hold up quite well and if anything, serve to display the group's diversity and unique talents.  "B.P.R.," a strong blues instrumental, gives Lobby Loyde room to stretch out and solo while their rendition of "Whole Lotta Shakin'" rocks as hard as any version I've heard of this classic.  From beginning to end Ball Power is an excellent album that's mandatory listening – all the performances have that road-honed tightness and tense, proto punk edge.
Several years back Aztec Music reissued this lost classic on cd but since then its become very expensive and increasingly hard to find.  Coloured Balls would release two other flawed but worthy albums, 1974's Heavy Metal Kids and 1976's First Last Supper (1972 recordings).
mp3: Won't You Make Up Your Mind
mp3: Hey! What's Your Name

Original |  1973 | EMI | search ebay ]


Reissue | 2006 | Aztec | buy here ]
Also Recommended