Country Joe McDonald "Thinking of Woody Guthrie"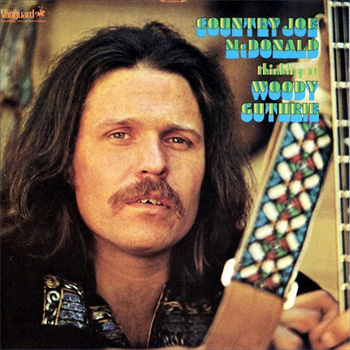 During the reigning years of San Francisco headband Country Joe and the Fish, singer and songwriter Joe McDonald took some time out to head to Nashville and record a pair of solo albums with the city's top session men. Released on the iconic Vanguard Records, these two albums saw McDonald take a broad left turn, away from psychedelia and deep into the traditional folk and country music that had helped inform his earlier years as a radical-political folksinger. Indeed, the first of these two albums, Thinking of Woody Guthrie, was a heartfelt, play-it-straight tribute to the daddy of them all (the radical-political folksingers, that is).
With Nashville aces such as Grady Martin, Norbert Putnam, and Buddy Harmon on board, nobody can accuse McDonald of doing the country thing half-assed. The band lends a warm Opry-house vibe to the wide range of Guthrie material on display, from the weary "Blowing Down That Old Dusty Road" (see "Going Down the Road Feeling Bad") to "Tom Joad," the seven minute Steinbeckian epic that closes the first side of the album. The music tends to be dense, but the sound is always crisp, with sharp guitar and steel lines darting in and out across McDonald's plainspoken singing. Martin's electric sitar lines in "Pastures of Plenty" and the woven acoustics that drive "Tom Joad" are particularly notable. At some points in the proceedings, one does wish that McDonald's voice was a little more emotive, but as it stands he does a fine job at conveying what is otherwise well-worn material.
All things considered, it would be a stretch to suggest that Thinking of Woody Guthrie is an essential record, but for what it is it manages to stand remarkably strong. Anyone putting together an electric album of Guthrie songs risks missing the point completely and overdoing the material, but McDonald's take is understated enough to avoid this misstep. He is always sympathetic to the song. In fact, as he himself notes in the spoken introduction to "This Land Is Your Land," the magic in Woody Guthrie's songs lay in the fact that Guthrie "never gave you the feeling that he was better than you in any way, and he never gave you the feeling that he was worse than you. But that he loved you, because you were just like him and he was just like you." I'd argue that the same can be said for old Country Joe here.
An unusual release such as this often risks being forgotten, and left to rot in the vaults, but fortunately Vanguard Records has been remarkably good about keeping their material in print, and their reissue from the early nineties is still widely available. I'd definitely recommend giving it a spin; this is a great record if you're looking to take some Guthrie songs on the road.
Audio clip: Adobe Flash Player (version 9 or above) is required to play this audio clip. Download the latest version here. You also need to have JavaScript enabled in your browser.
"Pastures of Plenty"

Reissue | 1991 | Vanguard | buy here ]


Original | 1969 | Vanguard | search ebay ]
Also Recommended