Cowboy "5'll Getcha Ten"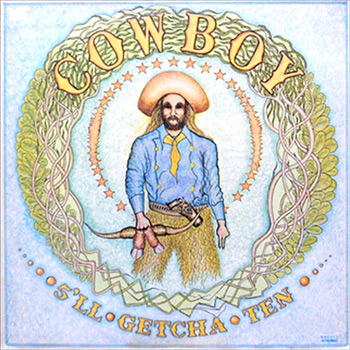 Cowboy were a country-rock group usually remembered for their associations (The Allman Brothers and Eric Clapton) rather than the fine body of music they produced in the early 70s. 5'll Getcha Ten was Cowboy's second LP, released by the Capricorn label in 1971.  Never released on cd, this is arguably Cowboy's finest moment and indeed one of the best forgotten country-rock albums from the late 60s/early 70s.  It's worth mentioning that one of Cowboy's key members, guitarist, vocalist and songwriter Tommy Talton was formerly in the great Florida garage rock group We The People.  Scott Boyer, Cowboy's other key member, played guitar and co-wrote many of group's songs.
Fans of Crazy Horse, Poco, and CSNY will want to own this fine album.  Cowboy's sound is similar to Poco but instead of rocking out Talton and Boyer prefer a more relaxed, introspective back porch sound.  Only on the excellent "Seven Four Tune" does Cowboy truly let loose and rock out.  Every track on 5'll Getcha Ten features transcendent harmonies (perhaps the group's greatest asset), terrific songwriting, and strong musicianship – these boys can play.  If it's any consolation as to the quality of the music here, Eric Clapton chose to cover Cowboy's bluesy country-folk number "Please Be With Me" on his classic 461 Ocean Boulevard album.  Other great tracks include an upbeat number with electric sitar titled "Right On Friend," the introspective "Innocence Song," and "The Wonder," a superb track that recalls Crazy Horse circa 1971.   Duane Allman playing dobro/guitar on 5'll Getcha Ten adds a little star power and credibility to the proceedings but don't let this be the reason you purchase this album (vinyl originals can still be found for cheap!). In their own right, Cowboy were a talented group of musicians who made great music.  5'll Getcha Ten is a classic roots rock album that deserves a lavish LP or cd reissue.  Also, Cowboy's debut, Reach For The Sky and their 1974 album, Boyer & Talton are great records worth seeking out.
Audio clip: Adobe Flash Player (version 9 or above) is required to play this audio clip. Download the latest version here. You also need to have JavaScript enabled in your browser.
"The Wonder"

Original | 1971 | Capricorn | search ebay ]
Also Recommended