Cream "Wheels of Fire / In the Studio"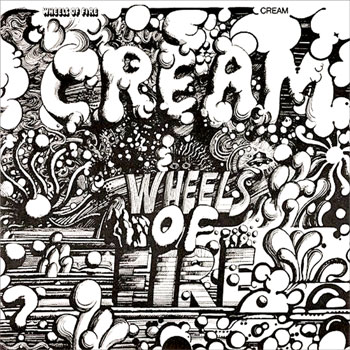 Although The Rising Storm's principal premise is to play the spotlight on fine obscure albums, it's fun occasionally to review something well-known from a (hopefully) new personal perspective, so here's my take, forty-two years on, on Cream's most uncharacteristic album.
The historical context for Wheels Of Fire needs no repetition here, as Cream's history is so well documented. Suffice to mention that by the time they began recording it in early 1968 the wheels, so to speak, were already coming off, with a disillusioned Eric Clapton's original vision of a purist blues trio with himself in the Buddy Guy role just a distant dream, Jack Bruce firmly in the driving seat as both composer and vocalist, and Bruce and Ginger Baker well and truly back at each other's throats just as they had been in their Graham Bond days. The decision to break up the band had already been taken before the album's completion, with just contractual live engagements and the makeshift fourth album to fulfil.
Despite all this antipathy the studio component of Wheels is a surprisingly high-quality collection which, as we all know, hit the shelves accompanied by a frankly turgid live set. The studio half – which in most countries was also released as a single album in its own right – is exhilarating proto-progressive rock with the odd bluesy afterthought and some stealthy jazz and classical overtones. Hardcore head-banging blues-rock aficionados may still wince when comparing it to Cream's earlier studio efforts, and to the extended guitar jams on those songs that continued to make up most of their live set – only "White Room", "Sitting On Top Of The World" and "Politician" from Wheels ever seeing the stage – but fans of Jack Bruce will acknowledge it as a worthy precursor to his highly successful solo career. What may come as a surprise is that three of the most leftfield numbers weren't composed by Bruce, though he makes two of them his own both vocally and instrumentally, but by ill-fated British jazz composer and pianist Mike Taylor, with Baker providing the lyrics. Add to this the astonishingly diverse multi-instrumental talents of producer Felix Pappalardi, and you've got an engaging musical stew comparable to the Fabs' White Album in its variation and experimentation.
All the tracks are well-known, but possibly overlooked highlights to listen out for in retrospective plays are Clapton's eerie, brittle, reverbed guitar sound on "Sitting On Top Of The World", produced from his single-pickup Gibson Firebird; Bruce's hypnotic droning cello and modal acoustic guitar on "As You Said"; the instrumental break on "Politician" in which Bruce's sludgy, rumbling bass underpins no fewer than three overdubbed intertwining guitar lead lines; Pappalardi's gorgeous baroque trumpet figures which rescue the weakest track, Baker's recitative "Pressed Rat And Warthog", from mediocrity; and the splendid tuned percussion by Baker and Pappalardi on the sinuous, shifting "Those Were The Days". Bruce's near-operatic vocals on this album were among the best of his career.
I guess the live set should be mentioned in passing. Only the crisp, driving four minutes of "Crossroads" makes the grade, with Bruce's tedious harmonica exposition "Traintime" and Baker's formless sixteen-minute drum solo on "Toad" being of interest only to completists. (IMHO, the only rock drummer ever to warrant a solo is Jon Hiseman.) Oh, and for those wondering what a tonette is, as credited to Pappalardi on "Pressed Rat", it's a cheap plastic recorder-like instrument commonly used in elementary schools. It took me forty-two years to find that out: thanks, Wikipedia.
Audio clip: Adobe Flash Player (version 9 or above) is required to play this audio clip. Download the latest version here. You also need to have JavaScript enabled in your browser.
"Those Were the Days"

CD Reissue | 2CD | 98 | Polydor | buy at amazon ]


Original Vinyl |  1968 | Polydor | search ebay ]


Spotify link | listen ]
Also Recommended