Del Shannon "Home & Away"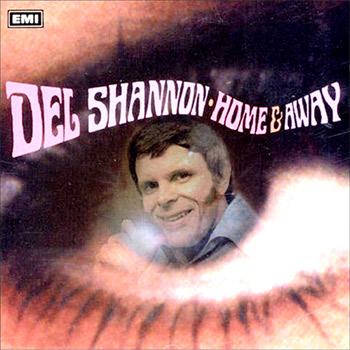 Del Shannon's Home & Away never saw a proper release in the 1960s.   These tracks would eventually see light of day on the 1978 vinyl LP/compilation titled And The Music Plays On.  Record executives of the day were looking for heavy, underground sounds, not dense, wall-of-sound type productions that featured complex vocal arrangements, strings, harpsichords, and plenty of horns.  The music on this disc was recorded in 1967 with Rolling Stones' manager Andrew Loog Oldham sitting in the producer's chair.   Home & Away was considered passe stuff for 1967 and shelved shortly after, as Del began work on his psychedelic masterpiece, The Further Adventures of Charles Westover.  The 2006 EMI reissue has excellent stereo sound and presents the LP in it's proper context – a must own for fans of  the mid 60s Beach Boys, the Zombies and the Left Banke.
It's useless to point out highlights on this great, lost pop album.  "Runaway '67" is exactly what it claims to be; a 1967 update of Del's classic smash.  This cut has a strong Left Banke feel with it's swirling strings and baroque arrangement.  Del's vocals sound haunted and seamlessly mesh with Oldham's productions.  They hit the mark on nearly every track.  This means that each song on the album flows effortlessly, whether it's the trippy harpsichord intro to "Easy To Say, Easy To Do" or the romantic pop of "My Love Is Gone."   My hit picks are the shimmering psychedelic pop of "Silently" and the beautiful Pet Sounds influenced gem "It's My Feeling."  Del only penned 3 of the LP's tracks but he and Oldham did a good job choosing fine material from outside writers – the 3 Billy Nichols selections are pop gems.
Home & Away is just a shade or two less important than The Further Adventures of Charles Westover. It's proof that this type of early rocker could forge on into the late 60s and make great, experimental music without losing their identity.  Del Shannon is one of those hard luck artists who made excellent music all throughout the decade but never received his due.
Audio clip: Adobe Flash Player (version 9 or above) is required to play this audio clip. Download the latest version here. You also need to have JavaScript enabled in your browser.
"Ginny In The Mirror"

CD Reissue | 2006 | EMI | get at amazon ]
Also Recommended