Delbert and Glen "Delbert & Glen"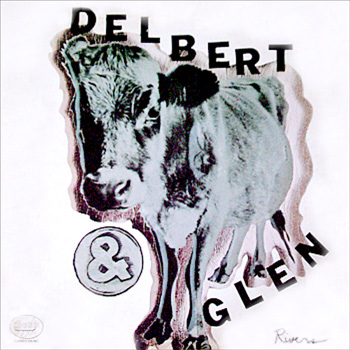 Delbert and Glen were a country-rock group that was founded by two Texas musicians, Delbert McClinton and Glen Clark. Prior to that, McClinton, a musician's musician, had began his career in the late 50s, playing harmonica on Bruce Channel's classic 1961/1962 hit single "Hey! Baby." After touring with Channel in England, McClinton went on to form his own mid 60s folk-rock group, the Rondells. The Rondells kicked around the Fort Worth scene, recording some material (but never an official album), most famously, the orignal version of "If You Really Want Me To, I'll Go" (covered by the Sir Douglas Quintet). When McClinton relocated to LA, he met up with Fort Worth musician Glen Clark. These two musicians recorded two very good Texas-style country-rock albums for Atlantic affliate Clean Records.
Delbert and Glen was the first of these efforts, released in 1972. Songwriting credits are split evenly between the two artists but McClinton's harmonica playing and hoarse, soulful vocals were the highlight of this LP. Delbert and Glen differentiated themselves from the twangy country-rock crowd by crafting a unique mixture of ballsy, intimate texas music: greasy blues, hillbilly country music, gospel, raucous rock n roll, and funky Southern-style jive. The 1972-1973 era was a prolific time for both musicians as they served up a handful of lost Americana classics. Songs such as "Old Standby," "I Received A Letter," "Here Come The Blues," "I Feel The Burden," "Everyday Will Be Like A Holiday," and "Ain't What You Eat But the Way That You Chew It" are wonderful examples of the genre. My hit picks are the gorgeous, soulful pop of "Everyday Will Be A Holiday," the tough rocking album opener "Old Standby" (what a great track!) and the underrated country tune "All Them Other Good Things." Alternative country and country-rock fans cannot miss this gem and are urged to track down these recordings – they are essential. Also, check out the duo's worthy swan song from 1973, titled Subject To Change.
Audio clip: Adobe Flash Player (version 9 or above) is required to play this audio clip. Download the latest version here. You also need to have JavaScript enabled in your browser.
"Old Standby"

Reissue | 2005 | Koch Records | buy here ]


Original | 1972 | search ebay ]
The Rondells (1965): http://www.youtube.com/watch?v=JVBKm8xo2rI
Also Recommended