Dillard & Clark "The Fantastic Expedition of Dillard & Clark"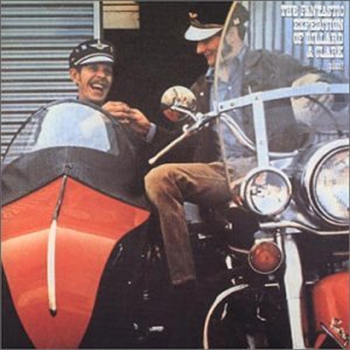 Ya'll said it couldn't be done! Doug Dillard (left) and Gene Clark (right) after leaving their respective acts (Dillards and Byrds) teamed up with Bernie Leadon (Hearts&Flowers/Flying Burrito Bros/Eagles), Sneaky Pete, and Chris Hillman for the Expedition, one of the world's greatest country rock albums, slightly ahead of its time and seriously overlooked even today.
Out On The Side, the opener, has to be one of the finest produced tracks I've ever heard. The drums are barely there but echo away on the fills. Not easily accessible yet so perfect, it's a real treasure. The coda to this song, around 2:45 with the off-time drum fill, has to be one of rock's most inspired moments. And while On The Side is worthy of intense dissection, the rest of Expedition continues to represent. A lush and laid-back bluegrass troupe owns it on She Darked The Sun, setting the tone firmly, nailed down by the straight-up Dillards feel on Don't Come Rolling. The Gene Clark sound takes it back for the next few songs: a triumvirate of gems molding the sweet spot of the record and providing all the proof we need to declare this a legendary match-up. I love the lazy swing to Train Leaves Here This Mornin' with the confused lyric to its chorus.
What follows has become a newgrass standard, printed in bluegrass songbooks and covered by the New Grass Revival. With Care From Someone is probably one of the first real progressive bluegrass numbers, and still one of the best. All of these songs are Clark originals excluding the well-delivered spiritual Git It On Brother (usually Get In Line Brother) and a bonus take on the Elvis number, Don't Be Cruel. Something's Wrong, the album's closer, is brilliant perfect Gene Clark.
Fantastic Expedition grows better and better, undoubtedly, with each listen. It is pure joy, pure beauty, a one of a kind favorite and sort of a miracle for the genres of both rock and country. Has anybody else fallen deep for this record?
Audio clip: Adobe Flash Player (version 9 or above) is required to play this audio clip. Download the latest version here. You also need to have JavaScript enabled in your browser.
"Out On The Side"

CD Reissue | 2008 | Water | buy at cd universe ]


Original Vinyl | search ebay ]
Also Recommended