Doc Watson "Doc and the Boys"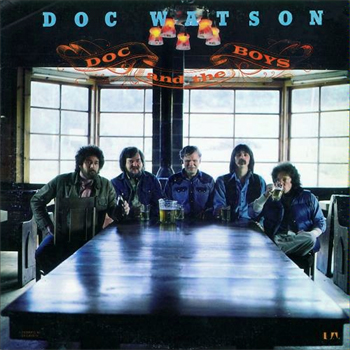 There's little doubt folk and bluegrass lost one of its legends in Doc Watson, a self-taught founder of flatpicking and popularizer of traditional American music for 60 some years. While you can't miss on any Doc record, this one is my go-to favorite.
Though Doc and the Boys was Doc's highest charting LP (41 on US Country), little mention is heard of the record today. A lot of the early pickers are subjugated to compilations, best-ofs, and box sets. Fortunately, this LP comes from a time when singles were eschewed for album length statements, and Doc and the Boys delivers a rock solid 35:00 straight from the prime of that funky, in-the-groove Nashville country of the mid-70s.
Starting from the studio recording side, we get a smoking kickoff in "Darlin' Corey," Jim Isbell's zip-tight rhythm dispelling any doubt that a drum kit belong in a bluegrass tune. Merle trades lines with Doc's harp on the deep-in-the-pocket "Cypress Grove Blues" and Doc proves his gifts with a song on Tom Paxton's very sweet "Can't Help But Wonder (Where I'm Bound)," an easygoing "Girl I Love," and a bouncy number called "Natural Born Gamblin' Man." Side one closes with the hottest rendition of "Little Maggie" I've yet to hear. He may be known for his picking, but Doc may have had one of the best rounded and perfectly suited vocal tones in the history of country music. Such a comforting, deep, and rooted voice.
Recorded live at the Hub Pub in Winston-Salem, North Carolina, side two doesn't skip a beat in its sound. It took me a year to even realize the sides were split between live and studio! If anything, the live atmosphere only adds to the octane in the picking and harmonies. In any case, tunes like the a capella "Southbound Passenger Train" clearly had to be recorded live and we are treated to honest takes on gems like Mississippi John Hurt's "Spikedriver Blues" and a fine original from piano player Bob Hill in "Southern Lady." Cash may have done better with "Tennessee Stud" but it's nice to hear Doc close with a happy take on a hit.
If you're a fan of "honest, down-to-earth" and damn good country music, track this one down. We'll miss you, Doc!
mp3: Cypress Grove Blues
mp3: Spikedriver Blues

Reissue | 2003 | 2fer w/ Live & Pickin | buy here ]


Original | 1976 | United Artists | search ebay ]
Also Recommended