Double Zappa |FZ| 1971-72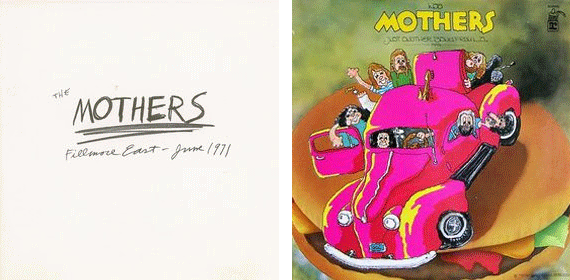 This would have been good to post two days ago, considering the original Mothers chose their band name on Mother's Day. The label tacked on "Of Invention" in an attempt to lessen the weird. By 1971, Zappa's ever evolving band — now fronted by Flo & Eddie, the lead singers from The Turtles — proudly reclaimed their simpler title and re-upped the weirdness to a frenzied degree. To me, these two live albums from the age of 200 Motels are the most fun picks from the discography.
Fillmore East (1971)
FZ kept extensive archives of his live recordings, and Cal Schenkel's pencil-scribbled cover ("He made me do it!" pleading on the back) must be an homage to one of the actual reels. Opening with a tasty instrumental reworking from Burnt Weeny Sandwich, Fillmore East becomes a stage play of sorts, with the Turtles assuming the role of one of Frank's long-lived obsessions: starstruck groupies looking to get their "rocks off." What Kind of Girl Do You Think We Are is genius for its seemingly off-the-cuff yet fully orchestrated vocals, riffing all sorts of mayhem over a modified blues. And before this, the Mud Shark fits a memorable rock n roll tale over a soulful little groove. The sound they had by this show is wild: a combination of organ, Rhodes piano, Don Preston's Minimoog, and Zappa's gritty guitar all the while complemented by the over-the-top falsettos of Flo & Eddie (whose voices you might recognize from T-Rex's Slider album). As usual, Zappa's band is on top of its game.
Audio clip: Adobe Flash Player (version 9 or above) is required to play this audio clip. Download the latest version here. You also need to have JavaScript enabled in your browser.
"The Mud Shark"

CD Reissue | 1995 | Zappa Records | buy from amazon
]


Original Vinyl | 1971 | Reprise | search ebay ]
Just Another Band From LA (1972)
"Billy was a mountain. Ethel was a tree growing off of his shoulder." It just astounds the mind what Zappa was able to accomplish in his lifetime; case in point: the 25-minute, fully developed performance piece on side one of this record, Billy The Mountain. As a canned recording, it's more road trip fare than casual listening, but it must have been quite a lucky few to have seen it performed live, a bizarre tale complete with character acting, theme songs, sound effects, and very catchy refrains. Side two rounds out the experience with harder rock interpretations of early Mothers classics like Call Any Vegetable and Dog Breath. Two new tracks, Eddie, Are You Kidding and the perverted Magdalena are suitably ridiculous for one of the Mothers' nuttiest incarnations.
Audio clip: Adobe Flash Player (version 9 or above) is required to play this audio clip. Download the latest version here. You also need to have JavaScript enabled in your browser.
"Call Any Vegetable"

CD Reissue | 1995 | Zappa Records | buy from amazon
]


Original Vinyl | 1972 | Bizarre | search ebay ]
Also Recommended