Double Zappa |FZ| 1972-1972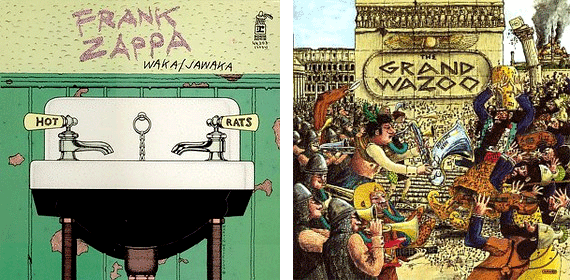 A week after the Mothers' equipment went up in smoke in Montreaux, Zappa got shoved for allegedly making eyes at some fan's girl. He fell ten feet into an orchestra pit causing injuries that would forever lower his speaking voice a few pitches and confine him to a wheelchair for nine months. During this time, FZ continued recording at the same prolific pace, releasing two mostly instrumental "jazz" records.
Waka Jawaka (1972)
Named for onomatopoeic sound of a wah-wah pedal, Waka Jawaka would make a good starting point for listeners more accustomed to classical or non-pop music. While these records are not without some typical FZ in-jokes and bizarre lyrics, the big-band sound is a strong departure from the previous Flo & Eddie live records. Huge free-jazz inspired jams fill out Waka Jawaka, only 4 tracks in total. The bulk of the album, 17-minute Big Swifty is a masterful group undertaking, with a sharp-as-hell horn line and an ingenious and loping return to form.
For the Zappa Uninitiated: you've got to at least try this track below, and catch what must be one of the finest Sneaky Pete steel solas ever recorded. One Shot Deal is a really excellent number, the feel good gem of the album:
Audio clip: Adobe Flash Player (version 9 or above) is required to play this audio clip. Download the latest version here. You also need to have JavaScript enabled in your browser.
"It Just Might Be A One Shot Deal"

CD Reissue | 1995 | Zappa Records | amazon
]


Original Vinyl Search | ebay ]
The Grand Wazoo (1972)
Sincerely a musical continuation of Waka Jawaka, the band sounds even bigger this time out, with swaths of textures echoing ensembles reminiscent of Miles Davis'.  You couldn't get a gig playing for FZ unless could truly tear it apart, and thru Grand Wazoo's five hefty songs, each player does. Great examples abound of the definitive Frank Zappa guitar tone, those characteristic lydian solos on effected acoustic guitar: how does he get that sound? I must be honest and admit preference to the rock/pop albums from Zappa more than these "musicians' music" records. But jazzers go nuts for these two dense lps.
This track was always my favorite, easily the catchiest tune on this set, with sparkling gnarly Rhodes work by George Duke:
Audio clip: Adobe Flash Player (version 9 or above) is required to play this audio clip. Download the latest version here. You also need to have JavaScript enabled in your browser.
"Eat That Question"

CD Reissue | 1995 | Zappa Records | amazon
]


Original Vinyl Search | ebay ]
Also Recommended