Douglas Dillard "The Banjo Album"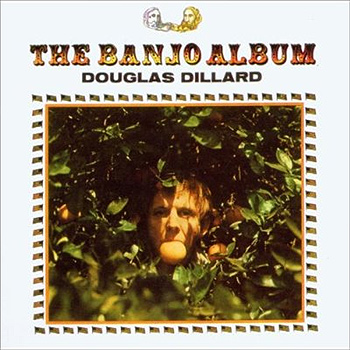 Douglas Flint Dillard died in a Nashville hospital on May 16th, 2012, at the age of 75. He never became a household name – doesn't even rate a personal Wikipedia page – but that was probably fine by this self-effacing, self-mocking virtuoso musician. On the plus side, he survived to an age not achieved by so many of his peers whose names are more widely celebrated. Sometimes it's better not to become a rock'n'roll legend, especially if it's posthumously.
Hailing from deepest Missouri and starting out as a bluegrass purist along with guitarist brother Rodney as the eponymous Dillards, Doug became part of the West Coast country-pop revolution of the late 60s, initially as a session player (it's probably him on the Monkees' "What Am I Doing Hanging Round", although Peter Tork could handle the five-string instrument quite capably) and then as a band member touring Europe with the Byrds playing the Sweetheart Of The Rodeo material. Prior to the tour Doug struck up an enduring friendship with former Byrd Gene Clark, contributing to Gene's album with the Gosdin Brothers, and on his return jam sessions with Gene, Bernie Leadon and Don Beck led to his own Banjo Album.
Coming as it does between Sweetheart and Dillard & Clark's peerless Fantastic Expedition, the humdrum-titled Banjo Album occupies a seminal place in the evolution of country-rock, as the instruments and players of the standard bluegrass ensemble go in search of new and uncharted musical areas to occupy whilst taking a rockin' sledgehammer to the traditional lightweight bluegrass sonic envelope. The historical notes by Joe Foster to the present CD put it more dramatically: "Eclectic is certainly a good description . . . jazz drums, harpsichord, djembek, tablas and various sound effects, as well as a manic attack poised somewhere between Earl Scruggs and the Ramones". Amen to that. And yet despite the frenzied presentation of the numbers – most of the tracks rush along at breakneck pace and clock in at around two minutes – the oddball instrumentation and the thick rock production, this remains an instrumental bluegrass music album at heart. Bill Monroe fans have nothing to fear.
Whilst credited to Douglas Dillard, this is a genuine band effort: Doug on the five-string plus the core combo of Leadon on acoustic and electric guitars, Beck on Dobro, John Hartford on fiddle and Red Mitchell on upright and electric basses. LA session veteran Andrew Belling contributes the harpsichord licks, future longtime Ry Cooder companion Milt Holland adds drums and exotic percussion and there's a cameo from Gene Clark on harmonica. Departing on "Train 4500", surely one of the best musical train simulations ever recorded, the journey takes us through a landscape of familiar and rare traditional tunes spiced with Dillard's piquant arrangements. Sometimes only the timbre of the instrument reveals who's soloing, as Beck and Belling can both whack out the triplets damn near as fast as Doug. The other high spots are "Clinch Mountain Back Step" on which Doug slurs the notes like the skirl of bagpipes, never missing a triplet roll even through the deliberate lurch in the rhythm, and the closing Dillard/Leadon original "With Care From Someone" with its distinctly non-bluegrass descending chromatic minor chord progression, on which all the protagonists get a chance to solo and Belling produces some revolutionary rock harpsichord. The bonus track on the Rev-Ola reissue is "Runaway Country", the one-off track Doug contributed to the movie Vanishing Point with scorching assistance from Byron Berline and Billy Ray Latham of Country Gazette.
After the high-water-mark of Fantastic Expedition Doug's career would settle into a comfortable stream of sessions with just about every country-flavoured performer in California and subsequently Nashville, intertwined with recordings and live appearances with a procession of reformed Dillards, New Dillards, Doug Dillard Bands and Rodney Dillard Bands until Doug became too ill to perform around 2010. If his epitaph be sought, it's probably fair to say that every subsequent outfit from the Nitty Gritty Dirt Band to Bela Fleck & The Flecktones that's twisted the tail of banjo-powered country music into new and unfamiliar shapes can be said to owe a debt to what Doug and Co. did on The Banjo Album.
mp3: Train 4500
mp3: Clinch Mountain Back Step

Reissue | 2012 | Floating World | buy here ]


Original | 1969 | search ebay ]
Also Recommended