Electric Light Orchestra "Eldorado"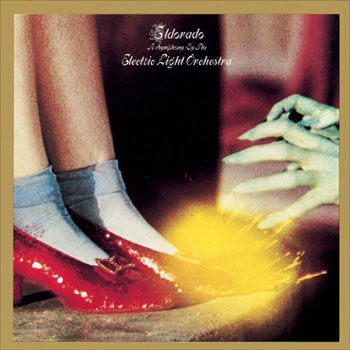 If any album cover has begged/hinted to its listeners to watch the "Wizard of Oz" while listening to the record it's this one, right? I haven't done it but I bet it's awesome. Why? Because anything involving "Eldorado" is awesome. Also check out "The Wizard of Oz", it's about this girl who gets caught in a tornado and well I don't want to spoil the rest…..
Jeff Lynne considers "Eldorado" the first album that accomplished the sound he had set out to make when starting ELO. Some even call it the Sgt. Pepper's of their career. For me, it's their best album, if you twist my arm, I might say, "Face the Music" but since you're not I'm sticking with "Eldorado." It's start to finish fantastic, it even has a reprise at the end which always makes us think we've come full circle and that we may have missed the bigger picture. It marks the beginning of ELOs string of super albums (Eldorado, Face The Music, New World Record).
Audio clip: Adobe Flash Player (version 9 or above) is required to play this audio clip. Download the latest version here. You also need to have JavaScript enabled in your browser.
"Boy Blue"
Eldorado at Amazon
Also Recommended