Emitt Rhodes (self-titled)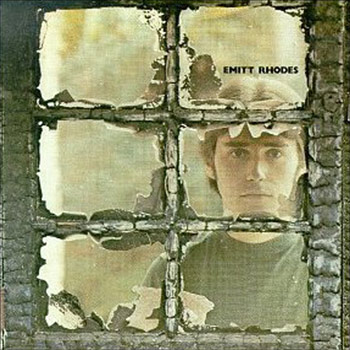 After disbanding his 60s pop group, the Merry Go Round (also recommended!
), Emmit Rhodes released this wonderful debut in 1970. Emitt, along with The BBoys, was raised in Hawthorne, California and by the age of 20 had amassed an unusual degree of musical talent. This entire album is composed, performed, and sung by Emitt Rhodes.
This album is different than most lost gems, however, in that there seems to be no good explanation for why it should have remained lost in the first place. The songs are so good, and the recording is ingenious, and incredibly catchy. The closest I get to the problem, is that it sounds too much like The Beatles. In fact, the first time I got this record, I found it hard to get into because it sounded so close to Paul McCartney. It takes the bite out, know what I mean? This doesn't remain a problem for long, though, as Emitt's work surpasses that of Sir Paul's in terms of good to bad ratio. You will soon be bopping along, wishing that Paul had been as focused as Emmy here.
Another classic case of mismanagement later and Emmy's 4 solo albums would be brushed under the table, waiting for us to scoop it all up. Even after having the song Lullaby featured in Wes Anderson's Royal Tenenbaums, Emmy's work remains inexplicably unavailable. I have a feeling a good comp will show up again soon. Daisy Fresh From Hawthorne was a great CD because it held the first album intact and followed with a smattering of pieces from his later albums.
Each song on this self-titled debut is a perfect little gem. You've got to track this down somehow. Never pass it up in the bins!
Audio clip: Adobe Flash Player (version 9 or above) is required to play this audio clip. Download the latest version here. You also need to have JavaScript enabled in your browser.
"Somebody Made For Me"
[ Try to Buy From Amazon
| Search eBay ]
Also Recommended