Fairport Convention "Full House"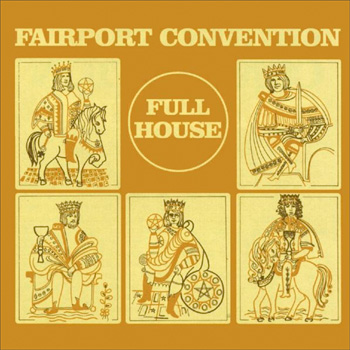 Full House marked the consolidation of Fairport's transition from West Coast-styled, hallucinogenics-
influenced outfit – a British Jefferson Airplane, perhaps – to purveyors of rocked-up, electrified
British traditional folk, a courageous move tentatively started with the inclusion of "A Sailor's Life"
on Unhalfbricking and triumphantly completed on Liege And Lief, perhaps the most influential and
important UK rock album to appear since Sergeant Pepper. But Fairport had then lost arguably its
two most important contributors, founder and direction-setter Ashley Hutchings and crystal-voiced
frontwoman Sandy Denny. New bassist Dave Pegg proved a valuable acquisition with his rocky style,
but the other members had to close ranks and take on the vocal chores themselves. They did so,
with an initial naïvité that retrospectively evinces considerable charm, Richard Thompson and Dave
Swarbrick proving to have distinctively different rural vocal deliveries and Simon Nicol reluctantly
airing a melodious tenor that would eventually see him become the band's leading voice.
The other element that newly marks Full House out is the humour and looseness which its illustrious
predecessor lacked. With talented but earnest female vocalist Denny no longer having to be
accommodated and adulated, the boys were free to have some fun, and it comes across in these
grooves, notwithstanding the doomy themes of some of the lyrics: songs about sexual exploitation,
sin and death can be funky, as "Doctor Of Physick", "Sloth" and "Sir Patrick Spens" show. I recall
seeing this line-up play the Bath Festival Of Blues And Progressive Music at Shepton Mallet in 1970,
and the high jinks on stage would not have been on display a year earlier.
"Walk Awhile" is a wonderfully swinging opener, with all three lead vocalists taking turns at the
verses and fine, fiery harmony and octave work between Thompson's guitar and Swarbrick's
violin. "Sloth" is an ominous, downbeat death march that builds to an almost unbearable tension in
the lengthy instrumental break as Thommo's edgy Strat and Swarb's compressed, wailing fiddle duke
it out in opposite stereo channels: perhaps the best instrumental work the band ever produced. The
two cheerful jig medleys offer a variety of familiar and little-known traditional tunes, forefronting
Swarb's and Peggy's duelling mandolins on "Flatback Caper" and all four string players on "Dirty
Linen". "Spens" is a gloriously disrespectful, steady-rollin' take on that revered Scottish traditional
ditty, while Nicol's amplified dulcimer provides the backbone for that country's mournful anthem
for the dead, "Flowers Of The Forest". The Island CD re-release offers a number of bonus tracks,
including the unnecessarily lugubrious "Poor Will & The Jolly Hangman" that had been removed
(probably wisely) from the original pressing at the last moment at the insistence of its writer,
Thompson, and the brief but excellent non-album single "Now Be Thankful", one of the band's
evergreens.
Full House is arguably Fairport's last really great album, its release being followed by the departure
of Thompson for a solo career and his replacement by Jerry Donohue, whose elegant Nashville style
prefaced a gentle slide in the direction of country rock. Henceforth Swarbrick would take over the
band's direction as the quality gradually declined until his own departure, when Nicol as the last-
standing original member would take the reins. After countless further line-up changes and albums
the band remains extant and much-loved to this day, with its annual outdoor reunion at Cropredy in
Oxfordshire attracting swarms of the faithful.
Audio clip: Adobe Flash Player (version 9 or above) is required to play this audio clip. Download the latest version here. You also need to have JavaScript enabled in your browser.
"Walk Awhile"

CD Reissue | 2001 | Island | buy at amazon ]


Original Vinyl | 1970 | Island | search ebay ]
Also Recommended