Fapardokly "Fapardokly"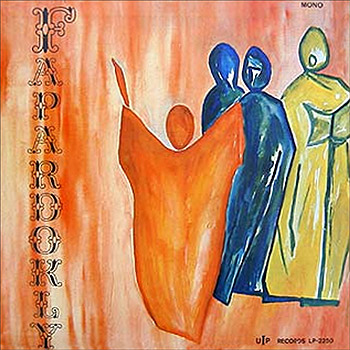 Much loved folk-rock record that is highly desirable from a 60s record collector perspective but comes with a steep price tag ($300-500). I believe Fapardokly's only lp was released in 1967 off UIP but has some of Merrell Fankhauser's early work with the Exiles. Prior to the Exiles, Fankhauser had been in the Impacts, a surf group who released the sought after 62/63 lp Wipe Out! This lp contains the original version of Wipe Out and the album as a whole is recognized as a minor gem of surf music.
After the Impacts, Fankhauser would retreat to the desert area of Antelope Valley (CA). It was here where he began to grow as a songwriter and musician. Fankhauser would soon discover a 14 year old Jeff Cotton and eventually the two would form the Exiles. The Exiles played a kind of beat music influenced by the British Invasion and earlier artists such as Ricky Nelson and Buddy Holly. Three or four of these tracks appear on the Fapardokly album and were recorded in Glen Studios during the 1964-65 era. The best of these early tracks is Tomorrow's Girl, a nice, downbeat Zombies inspired tune that had real potential. In all the Exiles would release 3 singles in the mid 60s of which none would result in any kind of commercial success.
There would be numerous lineup changes throughout 65-66, a time period in which Captain Beefheart would convince both John French and Jeff Cotton to join his new Magic Band. Even through all this, Fankhauser was able to record some interesting folk-rock tracks and eventually release the Fapadokly album in 1967. These newer tracks were more sophisticated and recorded at both Gold Star and Gary Paxton Studios in Hollywood CA. The album opened up with Lila, an excellent, shimmering folk-rocker that recalled the best aspects of the Byrds' Fifth Dimension lp. The next track, the Music Scene, had a clear Bob Dylan influence and lyrically explained Fankhauser's frustrations with the music industry. Super Market closed the album out on a high note with its beautiful 12 string acoustic guitar runs, psychedelic lyrics, and blaring trumpet. Two other tracks, Gone To Pot and the quirky Mr. Clock were both successful forays into 1966 psychedelia. The former track begs strong comparisons to the Byrds' Eight Miles High but is still a very enjoyable piece of raga-rock. The whole album is a mini gem of mid 60s folk-rock which can easily be bought on cd for less than $10 (try the Sundazed version).
Audio clip: Adobe Flash Player (version 9 or above) is required to play this audio clip. Download the latest version here. You also need to have JavaScript enabled in your browser.
"Mr Clock"

CD Reissue | 1995 | Sundazed | buy from sundazed | amazon
]


Original Vinyl | 1967 | UIP | try ebay ]
Also Recommended