Flower Travellin' Band "Make Up"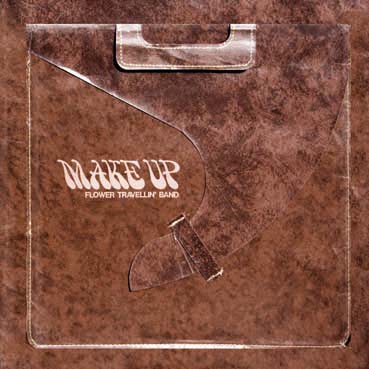 In the wake of their rather extraordinary, barnstormer of a classic, Satori, the Flower Traveling Band stepped up to the bar and managed to pull off that all-too-rare of feats, an artistically successful follow-up. While not quite the record that Satori had been, Made In Japan managed to establish the Band as a force to be reckoned with, and hinted at a long and illustrious career to come. Something seems to have gone a little haywire in-between the time that third record hit shelves and the compilation of what would come to be the group's fourth, and final, release: 1973's studio/live double-record set, Make Up. The Traveling Band had shed off a good percentage of the psychedelia that had marked their most legendary work, and instead developed themselves into a progressive, hard rock band, in tune with the sound of the era.
So what does all this have to say about Make Up? Well, despite the odds being against it, the record is a solid work, with some memorable material and at least a few gems. Most of it is something of a grab bag, veering back and forth between hard rock bluster and rather sentimental balladry. "All the Days" is one of the record's heavier, most typical Traveling Band numbers, with a gnarly guitar solo and a rather schizoid bass line. The following "Look  At My Window" is a ten minute cut of acoustic prog that makes it clear that the band wasn't planning on resting on their laurels, as marked by some great vocal harmonies. "The Shadow of Lost Days" is hundred-proof blues, and a showcase of sorts for Joe Yamanaka's soulful wail. The more unusual cuts to be found here include a twenty-three minute work-out on Made In Japan's "Hiroshima," half of which is unfortunately taken up by a ridiculously overextended drum solo, and a laughable riff on "Blue Suede Shoes" featuring the band's manager on lead vocals that never should have happened in the first place, much less have been recorded for all of posterity. If it weren't for a roaring live take of Satori's legendary second movement and the soaring, atmospheric acoustic closing number, "After the Concert," the second record might be considered pure filler, but as it is these last two tracks almost makes it worth sitting through the preceding half hour of hits-and-misses.
Make Up may not be the place to start with the Flower Traveling Band's catalog, but if you have already dug the majestic freak-outs of Satori, then you could do a lot worse than picking this collection up as well. The band would not release another record until 2008's rather dismal reunion album We Are Here, making this the end of the line for one of Japan's most highly-regarded psychedelic exports. The two-disc set has most recently been reissued by Phoenix Records, and while their set commands a rather high, double-CD price new, you can score a copy second-hand for far less.
mp3: Look At My Window

Reissue | 2011 | Phoenix | buy here ]


Original | 1973 | Atlantic | search ebay ]
Also Recommended