Fotheringay (self-titled)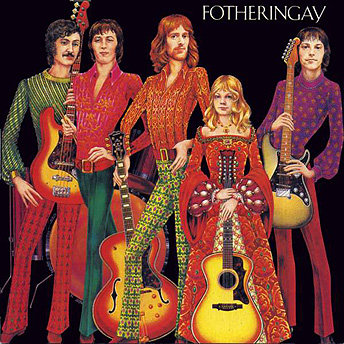 In 1970, Sandy Denny's departure from British Folk heroes Fairport Convention brought us Fotheringay, named after Denny's original composition "Fotheringay" (about Fotheringay Castle), which appeared on Fairport Convention's 1969 album What We Did on Our Holidays. Two former members of Eclection (Trevor Lucas, who would become Denny's future husband, and Gerry Conway), and two former members of Poet and the One Man Band (Pat Donaldson and Jerry Donahue) completed the line-up. The newly formed group was ready to head in to the studio, and give us their first (and long believed to be) only album. Fotheringay has become recognized as a lost British folk rock treasure.
Of course, Sandy Denny's voice is immaculate and flows ever so sweetly. "Nothing More," track one, immediately sets the mood for the album, and features some of Denny's finest vocals. This definitely sounds like a woman who knows all about pain, and offers her fellow mankind the best possible advice to move on from the past. Self-aware, yet sensitive, this is classic Sandy Denny. But believe me, the album just keeps getting better. The second track, "The Sea," is absolutely stunning, a song that always gets me choked up a bit and gives me goosebumps. Let's not forget to mention the musical quality here, either. For a newly formed and fresh band, they sound as though they're completely comfortable with each other and have been jamming for years. The group knew exactly what they were doing.
Trevor Lucas takes the mic for "The Ballad Of Ned Kelly," "Peace In The End," a positively killer cover of Gordon Lightfoot's "The Way I Feel," and an almost equally impressive cover of Bob Dylan's "Too Much Of Nothing." I've always loved Lucas' vocals on this album. He has a country-rock leaning to his voice, and I instantly dug it right from the start. The album closes with the truly beautiful traditional "Banks Of The Nile," a perfect ending to a nearly perfect album.
I kept my favorite track for last. "The Pond and the Stream" affected me in a pretty personal way. In fact, when I first got my hands on a copy of this album, I played that one song five times in a row. Lyrically and musically, it hits me pretty hard. I've since held it in the same high regard as classic Denny-era Fairport songs such as "Genesis Hall" and the immortal "Who Knows Where The Time Goes?"
Sadly, Fotheringay split in January of 1971, right while they were in the middle of recording tracks for their second album. Some of these songs managed to make it on to Denny's debut in '71, The North Star Grassman and the Ravens. Lucas, Donahue, and Conway later resurfaced in the "new" Fairport Convention in 1972 for the album Rosie, which also contained some Fotheringay songs. In 2007, Donahue completed the abandoned album by using takes never-before-heard from the original tapes. Fotheringay 2 was finally released in 2008, and is also recommended.
I cannot say enough about this album. A definite "desert island disc" for me, it has brought me a lot of listening pleasure for quite some time. It may also become one of your favorite discs to spin on a cold winter's night. Highly recommended.
Audio clip: Adobe Flash Player (version 9 or above) is required to play this audio clip. Download the latest version here. You also need to have JavaScript enabled in your browser.
"The Sea"

Original vinyl | 1970 | Island/A&M | search ebay ]


CD Reissue | 2004 | Fledg'ling UK | buy here ]
Also Recommended