Frank Zappa "We're Only In It For The Money"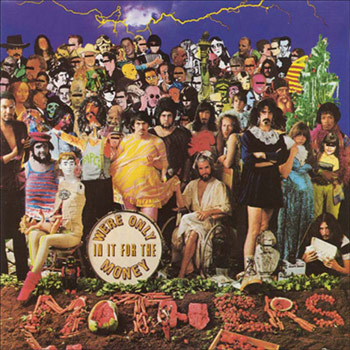 Not everybody has the time and/or interest to invest in collecting the entire Frank Zappa discography, but if you are interested in rock music enough to be here, reading this, you need to at least acquaint yourself with this album.
The original album cover shown above really says it all. For The Money is Zappa's thesis statement on the music culture surrounding him during the summer of love. It goes something like this: "every town must have a place where phony hippies meet, psychedelic dungeons popping up on every street."
Yet, when I listen to this album, I don't hear biting, social satire, as so many reviewers will mention. Yes it's there, but how can I concentrate on the lyrics when there is a such an astounding musical arrangement. Zappa's mastery of the studio is evident in every millisecond of sound; drum toms, orchestral instrumentation, clean treble guitar chords and melodies, sped up vocals, saxophone fills, and affected tape samples combine to create an unimaginable, indescribable sound.
The record is a fantastic journey and I never get tired of taking it. It's funny too, after a few listens, once you start to get used to FZ's humor. It is important to remember that Frank Zappa was a classical composer that merely used the pop music of the day to paint his own picture. He was an accomplished genius whose hardest drug was a cigarette. All of his work is superb, though the early Mothers stuff is the best, and this one is cream of the crop, unlike any other.
Audio clip: Adobe Flash Player (version 9 or above) is required to play this audio clip. Download the latest version here. You also need to have JavaScript enabled in your browser.
"Who Needs The Peace Corps"
[ Buy from Amazon
]
Also Recommended