Freedom's Children "Astra"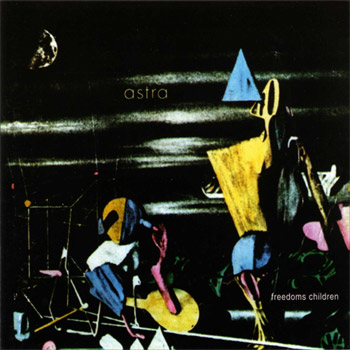 Freedom's Children were a South African band who began their journey in the mid 60s. Ramsay McKay (bass guitarist and songwriter) and Colin Pratley (drums) were the core members of this group. Julian Laxton would later be brought in as the group's lead guitarist. They released a handful of singles throughout 1967 and 1968, the best of these being blistering hard rock covers of Satisifaction and Mr. You're a Better Man Than I. Little Games, another 45 effort was comparatively weak when compared to the singles that had come before it and the Yardbirds' original. Freedom's Children were one of South Africa's first psychedelic groups in the apartheid era. Their anti-apartheid stance was dangerous at the time, often preventing the band from obtaining work permits and could only play gigs illegally.
In 1968 the group would release a promising debut album titled Battle Hymn Of The Broken Hearted Horde. The album was produced and released without the group's knowledge and in some ways similar to the Small Faces' Odgen's Nut Gone Flake. Each track was linked by a narration and at the end of each side were Pepsi advertisements. Definitely dated and of its time, the lp still has some great psych pop tracks like Season and Kafkasque. Disappointed with the results McKay added new vocalist Brian Davidson and began working on a second lp.
What they would emerge with in 1970 was one of the great, dark masterpieces of space rock. Astra was unlike anything from South Africa or anywhere else in the world. It feels like a concept album about Jesus Christ but Ramsey McKay goes out of his way to dispell such myths. McKay explained, "You see where Astra really comes from, is we had this flat in West Kensington. When the Americans landed on the moon…we took all our beds and put them in a semicircle around this little black and white TV. Anyway, we took this acid and when they landed on the moon we were tripping. It was such an experience, I shall never forget it and that's what Astra appeared out of." Astra took on challenging themes of religion (The Kid He Came From Hazareth), war (Medals of Bravery – the Vietnam War), and political statements about life in South Africa under apartheid (Tribal Fence and Gentle Beast). The Kid He Came From Hazareth was originally titled Nazareth. In this track McKay wanted to potray Jesus as an outlaw and he explained that the lyrics went something like this: "When he came down from Nazareth he was a hellhound on the run." It's a perfectly realized piece of progressive psychedelia with soaring vocals and intelligent guitar solos via Julian Laxton. For the recording sessions Julian Laxton used/created a special "black box" for a greater variety of guitar echoes. The Homecoming balanced out Laxton's wonderful black box soaked guitar solos with heavily distorted vocals by Davidson and a beautiful, unforgettable acoustic chorus. Another great track, Medals of Bravery has a gentle British pop psych vibe with lots of Hammond organ and a marching band beat. Engineer Nic Marten was responsible for the excellent organ playing throughout Astra and really is one of its underrated contributors. Slowly Towards The North Part 1 & 2 was one of the album's last tracks and one of its very finest. Part 1 was a dark, foreboding progressive piece which evolved into an uplifting organ dominated second half which beared a strong similarity to late 60s Procol Harum. The album as a whole is marvelous and full of studio effects, dive bomb guitar runs, complex arrangements and distorted, mutant vocals.
Anyone searching for a great, lost space rock psychedelic record should really seek out Astra. It's one of the best lps of its kind and has been reissued a few times, most notably by Shadoks Music and Lucky Pig Records. The Lucky Pigs reissue is preferred because it includes some of the early singles. After Astra, Ramsey McKay would quit Freedom's Children and take part in other seminal South African groups the Abstract Truth and Hawk. Freedom's Children went on to release another respectable hard rock effort in 1971 titled Galactic Vibes.
Audio clip: Adobe Flash Player (version 9 or above) is required to play this audio clip. Download the latest version here. You also need to have JavaScript enabled in your browser.
"The Homecoming"
Anything in quotes came from the excellent South African rock site: http://www.rock.co.za/files/fc_index.html

CD Reissue | 2008 | Shadoks | search amazon
]


Original Vinyl | 1970 | Parlophone | search ebay ]
Also Recommended