Frumious Bandersnatch "The Golden Sons of Libra"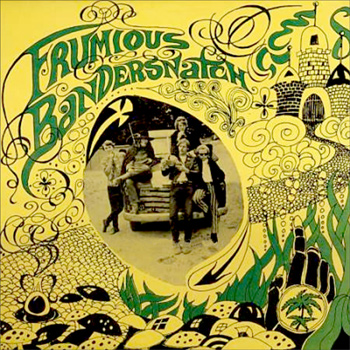 There was so much wild music milling around California in the late sixties that sifting for the treasures can often be a tiring experience. For every Jefferson Airplane or Buffalo Springfield there were a dozen or so messy congregations of drop outs and long-hairs dashing out disharmonious noise on the streets of Berkeley. Fortunately, however, the rewards for exploring this scene in-depth can often be exciting enough to make the whole tangle worthwhile. San Francisco band Frumious Bandersnatch is one of those rewards: a strong, if not-very-well-remembered group that managed to loose one three-song EP on the world before falling apart and (rather inexplicably and unfortunately) providing the personnel for both the Steve Miller Band and Journey. The Bandersnatch recorded more than enough material for a full-length record, however, and thanks to record labels like Big Beat and Get Back, folks today can enjoy the entirety of these unearthed recordings via the posthumous compilations A Young Man's Song and The Golden Sons of Libra.
The latter among these two collections is often considered the lesser anthology, but not having heard the former I can only say that Golden Sons is more than worth investigating. Running a strong forty-five minutes and adorned with some beautiful period-style artwork, it runs the gamut from Quicksilver flavored instrumentals to tight, fierce rock and roll barnstormers which, darker in atmosphere than your usual west coast fare, sometimes call to mind Mad River's self-titled record. Lead guitarist David Denny is my chief reason for citing Quicksilver here, as his incisive, vibrato-soaked phrasing makes it clear that he was riding the same (high treble, sharp bite) wavelengths as the great John Cipollina. Denny may be criticized for this remarkable stylistic debt, but I would argue that the Bandersnatch's music is all the better for it.
The opening track on Golden Sons is a strong declarative statement of intent, featuring all of the trademark elements of the Bandersnatch's sound. The unusual bridge sections, in which the band drops down into a low bass, drum and feedback buildup, ensure the track's memorability. The real meat of this album, however, is in it's final sequence of extended improvisations, beginning with the funky "Cheshire" and concluding with the sizzling "Can of Bliss," which goes from full-tilt boogie into a spastic drum solo before a low bass segment brings the band back in towards one of the most intense guitar solos on the record. Granted, these kinds of long instrumental segments may lose folks looking for concise psychedelic pop or garage (the last track is an almost entirely instrumental fifteen minutes of space age gun-slinging), but for those who appreciate these kinds of untamed musical adventures Frumious Bandersnatch does not fail to deliver.
mp3: Hearts To Cry
mp3: Chain Reaction

Reissue | 2002 | Get Back Records | buy here ]


Spotify link | listen ]
Also Recommended