Gene Clark "Two Sides To Every Story"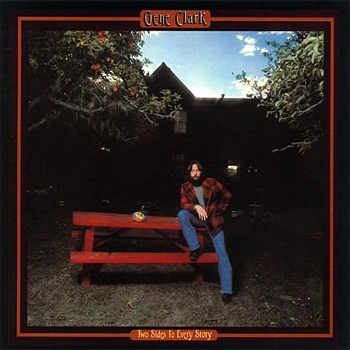 It was three years after Gene Clark's infamous, cocaine-fueled mid 70s masterpiece No Other, teaming again with Thomas Jefferson Kaye as producer and employing the best musicians of the era, Doug Dillard, Emmylou Harris, Jeff Baxter, Al Perkins, John Hartford to name a few, Clark took things down a notch while retaining a tight (but not overly slick) studio sound on 1977's Two Sides To Every Story. Even judging the albums by their cover, the excess of No Other gets stripped away to reveal a regular, humble Gene Clark in its wake. On the surface what appears to be a late, perhaps too-safe offering from a washed up Gene Clark (it did turn out to be another commercial failure) in hindsight is one of his finest moments on record.
A little bit a country, a litte bit rock n roll, a heavy dose of Gene's trademark ballads and tender vocal deliveries, you'll probably fall for one of the styles offered up on Two Sides more than another, but the varied mix works. Album starter "Home Run King" is an oddly great track as good as anything from the Fantastic Expedition, though Dillard's pronounced banjo picking will surely turn off the less country inclined. In the same kind of feel, the band lends traditional "In The Pines" as much a 'Gene Clark' sound as Nirvana would do for themselves some fifteen years later. I'm less inclined to stay around for the barroom rock sound on his own "Kansas City Southern," previously recorded for Dillard & Clark's Through The Morning Through The Night, and a cover of Young Jessie's "Mary Lou," but these are still strong cuts.
The key to this record is to not let the soft ones sneak by. Like all good Clark tunes the slower numbers here are moody, dynamic, dramatic rides that pay off more and more with each new listen. The beautiful "Sister Moon" could have easily found a home on No Other.  "Give My Love To Marie" is a tender take on a sad track penned by the underrated James Talley. The final trio of ballads, "Hear The Wind," "Past Addresses," and "Silent Crusade" all originals where he does his thing; the growing beauty of this album further solidifies Gene Clark as one of my favorite singer/songwriters (a shame I hadn't found this one sooner).
Perhaps a little more thought on the sleeve design (not that Gene's big goofy grin on the back is without its charm) might have ensured Two Sides would be properly recognized as the classic it is. On the other hand, most of Clark's material remains woefully unrecognized today, Two Sides no exception.
The fairly new High Moon Records issued Two Sides To Every Story on vinyl (with 16-page booklet) earlier this year. They plan to also put it out on CD for the first time this spring, included with an extra disc of bonus material. Apparently vinyl buyers will eventually be able to get their hands on the extra material as well through a download card. You can't be a Gene Clark fan without this one.
mp3: Home Run King
mp3: Sister Moon

Reissue | 2013 | High Moon Records | buy from highmoon ]


Original | 1977 | RSO Records | search ebay ]
Also Recommended