Graham Nash "Songs For Beginners"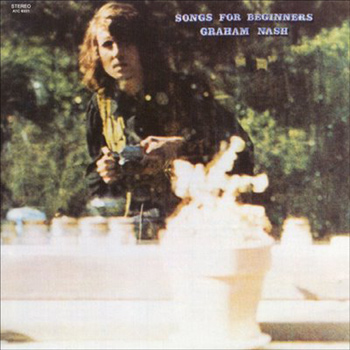 CSNY dismantled after 1970's Deja Vu, to release four excellent solo albums: Neil Young's After The Gold Rush, David Crosby's If I Could Only Remember My Name, Stephen Stills' Stephen Stills, and Graham Nash's overlooked but truly excellent Songs For Beginners.
Graham Nash began his music career penning excellent tunes for the Hollies, a lovely group whose Butterfly album is desperately missing a review on this site. His tunes for the Hollies and CSN: "Dear Eloise," "King Midas In Reverse," "Teach Your Children," "Our House," etc. were always in top form. Vocally, Nash defined the sound of CSN with a high harmony part joyfully recognizable in Beginners. The ace writing continues on this record with fine tracks like "Better Days," "Wounded Bird," no use listing every track as there are no dull points. The production makes very few false steps, with solid choices in the arrangement and a good comfortable sound.
Songs For Beginners has a few politically minded tunes in "Military Madness," the album's bouncy opener, and the anthemic "Chicago," about the 1968 Democratic Convention. The lyrics have a bright and hopeful feeling throughout, which could work in a time like today's. We can change the world, Graham, and that sentiment remains undated by my standards.
Fans of the CSNY family are lucky folk, with such a depth of wonderful material to dig. This album is definitely as strong as anything released at the time by Neil Young, Stephen Stills, David Crosby, or all of them together.
Audio clip: Adobe Flash Player (version 9 or above) is required to play this audio clip. Download the latest version here. You also need to have JavaScript enabled in your browser.
"Better Days"

MP3 Album Download | amazon
]


Vinyl | search ebay ]
Also Recommended