Grateful Dead "Birth of the Dead"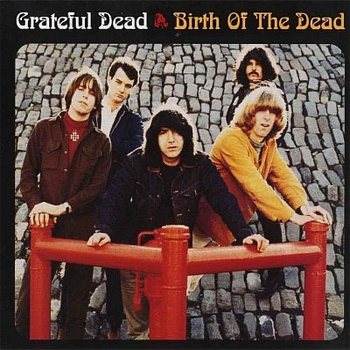 It's no secret that the Grateful Dead jumped the shark many, many times during the course of their long career. In fact it's pretty easy to dismiss the group outright as figureheads of the sixties counterculture's gradual descent into hippie/yuppie oblivion, as their constituency dropped back into the mainstream American fold during the rather nihilistic, Cocaine-fueled post-Nam years and carried the band along with it. But behind the burden of all this history lies a remarkable early career that, while by no means providing the most extraordinary music of the times (our articles here should have made that one clear enough by now), managed to give us a good run of righteous records. Now Birth of the Dead, a relatively generous two-disc set released by Rhino Records back in 2001, adds another, perhaps even more exciting piece to the puzzle that is early Dead.
Split between studio and on-stage material, the material found on the former represent some of the band's earliest forays into the recording studio, and the sounds they waxed during these sessions are a revelation. The band here is raw, frazzled and gnarly, still rooted in the blues and folk traditions they emerged from and free from any of the light funk fusion flavors that would come to tarnish their jams in the proceeding decade. The tempos here are fast, the guitars brittle and Pigpen's Vox Continental dripping with garage cool. Had it come from any other group, "Mindbender" (possibly the crown jewel of the collection) and "Can't Come Down" would be regarded as psychedelic folk-rock nuggets of the highest caliber. One almost wishes that some of the instrumental takes of these songs would be shuffled around the disc instead of being placed back-to-back with their masters, but the lack of vocals here help alleviate any repetition irritation. The most unusual cut on the first take is probably "Fire In the City," in which the band is found backing jazz singer Jon Hendricks on a political number originally written for use in a mid-sixties documentary feature. The combination works much better than one might expect, with Hendricks letting his hair down a little beside Jerry Garcia's piercing blues leads.
The live disc is a further joy, painted in surprisingly crisp sound quality and featuring a lengthy anthology of 1966 concert recordings apparently culled from a number of sources. Some of the usual suspects are to be found here, numbers which would follow the Dead onto their debut album such as "Viola Lee Blues" and "Sitting On Top of the World," but these are backed with some rarely-heard material from the era, including a solid rendition of Dylan's oft-covered "It's All Over Now, Baby Blue" and the traditional ballad "In the Pines." The blues and R&B numbers in-between are all solid, if not particularly exhilarating, but are definitely worth their weight for hearing this band in its prime really cut loose. The seven-minute closing romp "Keep Rolling By" has some razor-sharp Garcia guitar action going – at times sounding more like fellow Bay Area pickers John Cippollina or Jorma Kaukonen than his own latter-day self – and a bevy of endearingly ragged group vocal shouting. Merry Prankster Dead like it should be.
So if you've never really given the band their due, put off by their mythological hokum and alarmingly obsessive legacy, give this set a shot and see where you end up. There's a lot of great rock and roll to be found here, and it deserves to be taken on its own merit. And if you're digging this and haven't already jumped into the band's self-titled debut (released a year after the material contained herein was recorded but born of many of the same impulses), maybe now you'll have the proper context to digest that often underrated set.
mp3: Mindbender
mp3: One Kind Favor

CD Issue | 2001 | Rhino | buy here ]


Spotify link | listen ]
Also Recommended