Hardwater "Hardwater"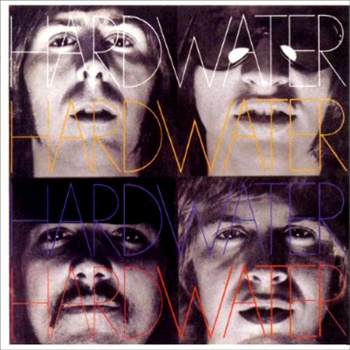 These pages are overflowing with tales of bands that came within a whisker of making it big in the halcyon years of rock: bands for which talent, originality and a fine first album wasn't enough to propel them into the commercial big-time and which subsequently fell by the wayside. Few came closer than Hardwater; only their timing probably let them down.
Their back pedigree was immaculate; guitarist Richard Fifield and bassist Robert McLerran had been members of the Astronauts, the Boulder-based surf outfit who'd released a string of nationally successful singles and albums on RCA between 1962 and 1968 and garnered an enthusiastic following in Japan. Relocating to LA and recruiting full-blooded Apache drummer Tony Murillo and bilingual guitarist Peter "Pedro" Wyant, they were signed rapidly to Capitol as Hardwater – the name being hippie argot for ice – assigned to illustrious house producer David Axelrod and directed to record in Capitol's famed Records Tower studios with all its near-limitless resources. Axelrod was also a top-notch composer and arranger, and Hardwater's situation could be compared to a new but well-qualified UK outfit being assigned to George Martin and recorded at Abbey Road. Success seemed inevitable.
There was no distinctive lead singer, but effortless three-part harmonies carried the songs which were comparable with those of Buffalo Springfield and Moby Grape, although the band members themselves claimed to have been heavily influenced by Sweetheart Of The Rodeo. In other words, definitive West Coast folk/country/acid rock that couldn't have come from any other area or any other era. Liberally sprinkled over the tight, taut rhythm tracks was Wyant's remarkable lead guitar, whose unique style juxtaposed rippling Eastern raga scales with aching pedal steel simulations via a volume swell. His sound was and remains revolutionary, especially since he favoured an unfashionable hollowbody Fender Coronado guitar with low-powered DeArmond pickups. The rockin' leadoff medley "My Time / Take A Long Look" sets out the store, while the subsequent tracks vary from the unassuming folk-rock of "City Sidewalks", and the good-timey two-step of "Plate Of My Fare" built around a sinuous Wyant guitar riff, through the dreamy acid-folk of "Monday" and the complex, contrapuntal acoustic guitars of "To Nowhere" to the funky finisher "Good Luck" with its popping bass and eleventh chords reminiscent of the Fabs' "Taxman".
No problems in the execution, then, and the album should have been a biggie. The problem was that Capitol had signed and recorded a glut of top-quality acts around that time, notably the Band and the Steve Miller Band, and subsequent record label effort was overwhelmingly directed towards these other acts. Hardwater's eponymous debut was six months delayed in release, there was no record company-sponsored tour, and like so many other praiseworthy offerings in those prolific days it failed to sell and duly disappeared, the disillusioned band fragmenting. Of its members, Wyant had the most high-profile subsequent career, having impressed Axelrod sufficiently to appoint him his house guitarist and feature him on Axelrod's own highly-successful quasi-orchestral recordings and on the ersatz Electric Prunes' infamous Mass In F Minor. He has since enjoyed a long and varied career whose details can be found at his website.
The CD reissue on Cherry Red's subsidiary Tune In is brief but excellent, augmenting the original running order of around thirty minutes with the very different re-recording for a projected single of "Plate Of My Fare". Axelrod's production standards were as good as it got at the time and still sound good today if you don't mind the sweeping stereo separation fashionable back then, with guitars and drums widely spaced across the plane. The accompanying booklet with historical perspective by Wyant is exemplary.
Audio clip: Adobe Flash Player (version 9 or above) is required to play this audio clip. Download the latest version here. You also need to have JavaScript enabled in your browser.
"Medley: My Time / Take a Long Look"

Reissue | 2011 | Tune In | buy here ]


Original | 1968 | Capitol | search ebay ]
Also Recommended