Harry Nilsson "The Point"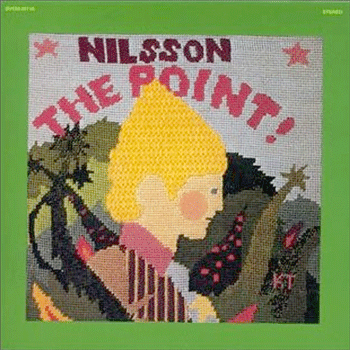 I wish I could say I grew up with this record. I can't say whether I would appreciate it more or less having discovered it in my 20th year or my 10th. Regardless, Nilsson's kid pop masterpiece is a delight to hear on first discovery or nostalgic relisten.
Piano and bongos open up the groove before Nilsson begins to speak. "Everything's Got Em" is a wonderful, catchy opener. Each track is bookended with Harry's comforting narration, audible sips of water sips and page turns providing homey color. The story is a fable. Oblio, the only boy in town without a point on his head. After multiple listens (a must have record for road trips) you may catch yourself singing the narration as much as the songs "…you see what you want to see and you hear what you want to hear."
The orchestration: piano, clavinet, mandolin, pizzicato strings, mellow percussion; every rhythm on this record interlocks in the most satisfying way. Nilsson crafted a pop sound with a hint of jazz that you'll find nowhere else. "Think About Your Troubles," "Are You Sleeping," and "Me And My Arrow" are tracks that you will never forget.
There was a cartoon movie version of The Point (DVD), with Ringo Starr's voice, but I find it to be a let-down after hearing the album. I suppose you have to see the movie first to enjoy it. I've always dreamed of a redone animated film of The Point, using something like the knitted style shown above, as a visual accompaniment to the album. It would have to be quite a work of art, thinking of that, to approach the genius of this record on its own.
Audio clip: Adobe Flash Player (version 9 or above) is required to play this audio clip. Download the latest version here. You also need to have JavaScript enabled in your browser.
"Think About Your Troubles"
[ Buy from Amazon
| search eBay ]
Also Recommended