H.M.S. Bounty "Things"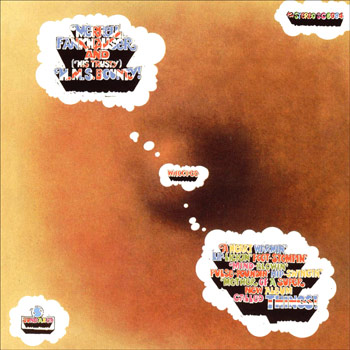 This was one of many Merrell Fankhauser bands throughout the mid to late 60's and early 70's. Things was released in 1968, sandwiched in between Fankhauser's Fapardokly and Mu albums. Mu is agruably his masterpiece, an innovative slab of slide guitar desert psychedelia from the early 70's. Things has more of a bona fide 60's sound, coming across like a meeting between Buffalo Springfield, Spirit, the Byrds and Cream.
This album is much more psych minded than 1966's folk-rock inclined Fapardokly too. A Visit With Ashiya is possibly Fankhauser at his most psychedelic, awashed with stoned vocals and walls of sitar. It's also one of the album's centerpieces and a raga rock killer that ends with some thick fuzztones. Things has a handful (about 4) of tuneful, melodic folk-rockers that hark back to earlier times. Ice Cube Island is one of the best of these folk-rockers, being so blissed out and eretheral. It's an excellent example of acid folk-rock. Other songs like Madame Silky, What Does He See In You and Rich Man's Fable work really well too and are characterized by paranoid vocals and liquidy fuzz guitar leads. For most listeners though, the highlight of this album is Your Painted Lives. It's one of those incredible 60's songs, an early foray into country psych that chugs along with echoed vocals and once again, hard fuzz guitar riffs.
Things is delicate and raunchy all at once and a great, American underground rock record. Fankhauser would go on to make better albums (Mu and his 1976 solo effort) but this record still deserves a special place among the psychedelic 60's.
Audio clip: Adobe Flash Player (version 9 or above) is required to play this audio clip. Download the latest version here. You also need to have JavaScript enabled in your browser.
"Your Painted Lives"
[ Buy from Amazon
| Search eBay ]
Also Recommended