Horses (self-titled)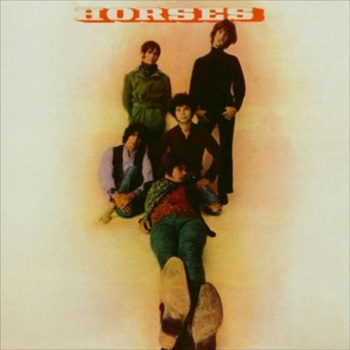 Horses was a Los Angeles band pieced together by the crack songwriting team of John Carter and Tim Gilbert following the success of their lysergic bubblegum anthem "Incense and Peppermints" for the Strawberry Alarm Clock. Toting a bag full of new Carter and Gilbert songs, Horses recorded one album for the White Whale label in 1969, likely expecting the excitement around the Strawberry Alarm Clock's record to carry over to their own. However, things weren't quite that easy, and their self-titled record went nowhere fast despite containing a wealth of great material.
The first cut on the record, "Freight Train," is an uptempo boogie number that was apparently being considered by Johnny Cash for his winning Orange Blossom Special album. Carter and Gilbert decided not to allow Cash to record it, however, wanting to reserve it for Horses. It would have been interesting to hear what the Man in Black would have made of the tune, but alas that was never to be. Either way, it's a driving opener, and should have made quite a single. The melodic bass work here is courtesy of Dave Torbert, who would later go on to replace Phil Lesh in the New Riders of the Purple Sage. His playing is extraordinary throughout the record, and is definitely worth checking out if you are a student or enthusiast of the instrument in a rock and roll context.
Perhaps Horses' greatest achievement on this record is that they manage to establish a unique and distinctive sound, a lack of which has brought many similar bands to an early grave. A key component to this sound, the subtle psychedelic flourishes, is perhaps best exemplified by "Birdie in a Cage," in which the chorus brings in an electric organ and a floating vocal melody. It can't really be said that Carter and Gilbert's lyrics are very extraordinary here, but they function well enough in the context of the songs, and by no means detract from the overall experience. The theme to more or less every song is either travel or women, with the notable exception being the single "Class of '69," which seems designed to appeal to Summer of Love sentimentality and the revolutionary atmosphere of the times. It doesn't quite succeed, being too firmly rooted in mainstream attitudes to really catch the spirit of the counter-culture. Nonetheless, it makes for a entertaining song.
The highlight of the record may very well come with the end of the record's first side. "Run, Rabbit, Run" has a funky guitar riff and a memorable, if somewhat weird, chorus. Meanwhile, "Horseradish" serves as a showcase for Horses as instrumentalists, and the track fits firmly into a Little Walter blues bag, replete with rollicking amplified harmonica. Even this track proves to be memorable, a rare feat for what might otherwise have been mere filler.
It's more or less impossible to find original copies of this album, seeing as people aren't even sure whether or not it made it past the "promotional only" pressing stage. However, Rev-Ola Records has reissued it on compact disc with an early single by one of Tim Gilbert's earlier projects, the Rainy Daze. These two tracks are more in a psychedelic garage rock bag, and aren't all that memorable. In fact, the first of the tracks, "Make Me Laugh," may be the one cut on the disc worth skipping, as it has a deadpan laugh going through it that tends to be extremely irritating.
It seems to speak for the unpredictability of the record industry that Gilbert and Carter weren't able to make Horses a success. Modeled after popular groups like Moby Grape and the Buffalo Springfield, Horses had the musicianship and the songs that many of their contemporaries lacked. Now, however, the group is best remembered for having a singer by the name of Don Johnson. No, this is not the actor Don Johnson, though most of what you read about Horses says otherwise. It's a real shame that this unusual piece of trivia has tended to obscure a righteous record by an extremely talented group, and Horses is long overdue for re-evaluation.
Audio clip: Adobe Flash Player (version 9 or above) is required to play this audio clip. Download the latest version here. You also need to have JavaScript enabled in your browser.
"Cheyenne"

CD Reissue | 2003 | Revola | buy here ]
Also Recommended