Hoyt Axton "Joy to the World"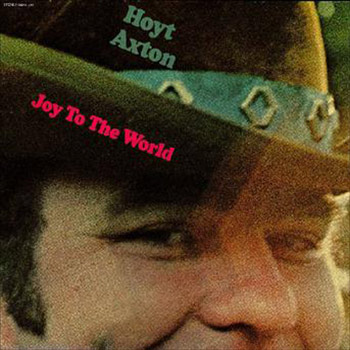 After too many years over-exposure to the words "Jeremiah was a bullfrog…" I thought I would never make it all the way through another version of "Joy to the World." Hoyt Axton's original delivers the goods though, and much more to dig on this 1971 gem, his most celebrated and "hits" filled record.
In quotations since none of the "hits" were from his own version. Before any research, it sounds like a collection of covers, but I was surprised to learn he actually wrote "Joy to the World," "Never Been to Spain" (both as made famous by 3 Dog),  and "The Pusher" (Steppenwolf). Clearly a talented songwriter but a damn fine performer at that, seeing as how his originals endure better today than their played-out cover versions. These productions are raw, but layered and textured, a bit twangy and sometimes pumped up with an overdriven gospel chorus. It's a kind of sound that could even sound good on blown out speakers.
Axton's vocal varies track to track: sometimes it's a little unconvincing, like on the swampy "California Women" (great work with the blues harp on this one), but a couple lines in he'll hook you back. The payoff is in the growl and squonk when his voice is most worn.
This record's worth it for some key moments. The panning moog (or distorted bass guitar, sax? can anybody call it?) on "Alice in Wonderland's" addicting chorus.  The first verse of "Lightnin' Bar Blues" (another song so good I can't believe it's original) before the bar fight sound effects nearly ruin the track. And "Have a Nice Day," now that's my kind of tune, it's like the content of a R. Davies track with some J. Sebastian feel.
Get this any way you can find it, but the Raven CD reissue comes as a 2fer with his previous recording, Country Anthem, another great one.
Audio clip: Adobe Flash Player (version 9 or above) is required to play this audio clip. Download the latest version here. You also need to have JavaScript enabled in your browser.
"Alice in Wonderland"

Original Vinyl | 1971 | Capitol | search ebay ]


CD reissue | 2001 | Raven | 2fer | at amazon ]
Also Recommended