INDEX "INDEX"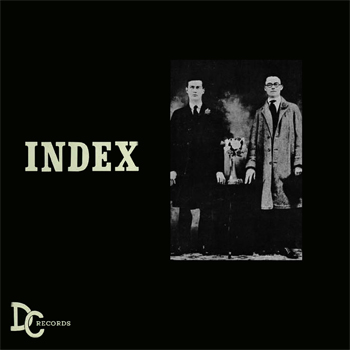 INDEX  were a popular local psych rock group from Grosse Pointe, an affluent suburb outside of the Detroit, Michigan area.  Their debut album, commonly referred to as "The Black Album," was released in December of 1967.  The group consisted of drummer Jim Valice and guitarists Gary Francis and John Ford.  150 original LPs were pressed on DC Records, making this album very rare and super expensive.
"The Black Album" was recorded in mono using a reel-to-reel tape recorder.  This primitive, underproduced recording technique has only added to the album's mysterious, acid drenched mystique.  Gary Francis played a Gibson 12 string electric guitar on most of the album's tracks, which were recorded in the ballroom of the Ford Estate.  Of the 9 tracks, 4 are instrumentals while the remaining 5 tracks were recorded with vocal arrangements.  Most of the album's tracks are quality originals although INDEX adds some interesting basement-garage-raga-surf sounds to well known standards such as "Eight Miles High," "You Keep Me Hangin On" and "John Riley."  "Eight Miles High" is probably INDEX's best known track, being full of superb raga guitar work and downbeat amateur vocals.  Other than the Byrds' original, this is probably the best version of this song I've heard but kudos to English band East of Eden, who recorded a very fine unreleased take of "Eight Miles High" in 1969.  "Feedback," another popular track that received limited airplay back in the late 60s, is an explosive, feedback laden monster (instrumental) that sounds like the Velvet Underground circa 1968.  Other fine tracks are the acid surf instro "Israeli Blues," psychedelic folk-rockers "Fire Eyes" and "Rainy, Starless Night" and the wah-wah crazed "Turquoise Feline."  INDEX is without doubt one of the classic "must own"  American psych albums.
Comparisons are hard to draw upon because INDEX doesn't sound like anything I have heard before.  The group name check The Who, The Byrds and Jimi Hendrix as influences but the Velvet Underground and Dick Dale can also be heard in the INDEX's unique sound.   Vinyl reissues have been around for years but are somewhat expensive.  Lion Productions recently released a fine 2 disc set which includes INDEX's two official albums along with some unreleased studio material.
Audio clip: Adobe Flash Player (version 9 or above) is required to play this audio clip. Download the latest version here. You also need to have JavaScript enabled in your browser.
"Feedback"

Reissue | 2fer | 2011 | Lion Productions | buy ]
Also Recommended