Info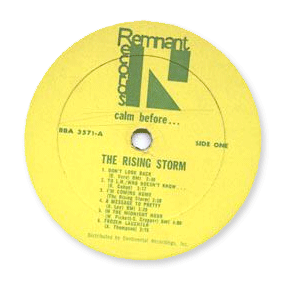 The Rising Storm is an mp3 blog about fine forgotten albums. We focus on lost gems in the genres of garage, country rock, psych folk, psychedelic rock, and other overlooked classics.
Looking for the 60′s garage band?
Submissions
We don't write about new music, but we seriously love reissues. Please send an email to inform us of upcoming reissues you would like to be considered for review.
Facebook
Follow us on Facebook.
Contact
contact@therisingstorm.net
Writers
Brendan McGrath (pet sounds, jerry jeff, synths)
Jason Nardelli  (dillard&clark, mobygrape, the savages)
John "Stranger" Bonanno (punk,blues,garage,country)
Len Liechti (cat mother, richard thompson, dylan, beethoven)
Nik Rayne (phil ochs, trad gras och stenar, link wray, krautrock)
Katie Kanitz (stone roses, kinks, nick drake, coltrane)
Frank Maston (beatles, bowie, brian wilson, debussy)
DA Glaesbrook (nerves, chris darrow, judee sill)
Want to write for TRS? Send an email to brendan@therisingstorm.net
Important
Please support the artists and labels that make quality reissues possible. Spend some money on music today. We do not provide links to full albums. If you are the copyright holder of an mp3 hosted by The Rising Storm and you do not want it featured here, please contact us and we will remove it immediately.
Other
Check our weekly column on Aquarium Drunkard.
Subscribe to our RSS feed
Site design by michael and associate
30 Comments.
Leave a Comment