International Harvester "Sov Gott Rose-Marie"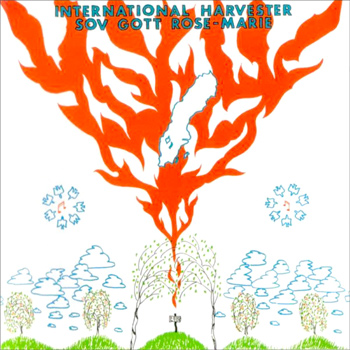 One of the more under-appreciated international underground music scenes to emerge from the 1960s was Sweden's iconoclastic progg movement, spearheaded by political organizers and avant-garde musicians such as International Harvester founder Bo Anders Persson. These musicians fought to cultivate a new social and artistic consciousness among Swedish youth, playing free shows across the country and recording experimental, minimalist improvisations that pushed back against an elitist, exclusionary musical culture. According to Persson, their principle goal was to bring the community back into the music. Many different bands would emerge from the progg scene, laying down sounds from fuzzed-out trance rock to traditional Swedish folk and more or less everywhere in-between. This record falls in-between.
The history of International Harvester is somewhat convoluted, due to a constantly shifting lineup and unstable name. Originally the group formed under the monicker Pärson Sound, recording two  albums' worth of material but never releasing a proper record. On scoring a record deal, the band renamed itself International Harvester, a reference to the U.S.-owned tractor manufacturer and a symbolic attack against corporate agriculture. To avoid legal wrangling, however, the band soon had to shorten their name to Harvester, and released one last record with their current lineup before dissolving into Träd, Gräs och Stenar (Trees, Grass and Stone) and finally managing to score popular success.
Sov Gott Rose Marie, the band's sole release under the International Harvester name, is an unusual patchwork of field recordings, electric krautrock jams and percussive experimentation that bridges the sonic gap between what the Velvet Underground was laying down in New York (the band was actually personally invited by Andy Warhol to play an exposition, but things fell through) and the Amon Düül commune was brewing in Munich circa 1969. Though the music may sound free-form, closer listening reveals the rigorous discipline displayed by the individual musicians. Each member leaves his ego at the door and subsumes himself in the music, a quality perhaps picked up from the band's time spent studying and performing under the auspices of the aforementioned Riley back in the mid-sixties.
After opening with the deep drone of a Latin death hymn and the chirping of woodland birds, the record wastes no time kicking into gear. "There Is No Other Place" is perhaps Sov Gott Rose Marie's heaviest track, combining the band's obsession with heavy, pounding tribal rhythms with an overdriven guitar line lifted straight out of the Hawkwind bible. Three tracks later and the disarmingly concise "Ho Chi Minh" serves as one of the band's more unusual political statements, exploding the Harvester's percussive tendencies into a Viet Minh war chant running on a hypnotic two-note figure by bassist Torbjörn Abelli. It is perhaps the group's artistic and political spirit (the band was associated with the Swedish Communist Party's youth league, and performed and recorded regularly at the Kafe Marx in Stockholm) most perfectly distilled: no time wasted, no unnecessary chords – the new electric underground resistance in less than two minutes.
The mellower side of International Harvester makes itself apparent on "The Runcorn Report on Western Progress" and the droning title track, which rides at a glacial tempo that perfectly foreshadows such later record's as Earth's The Bees Made Honey in the Lion's Skull. "It's Only Love" is one of the band's closest forays into the realm of popular music, but coming in right after "Ho Chi Minh" it's given its own surreal edge that keeps you on your toes through all of its one minute-forty seconds. All these shorter songs (basically encapsulating Side A of the originally-planned album release) are only a teaser for Sov Gott's second half, however, which is composed of three mammoth jams carried over from the group's Pärson Sound days. "Skördetider (Harvest Times)" runs almost half an hour, a roaring cauldron of blissed-out space rock featuring spiraling violin lines and low, moaning vocals before an intense fuzz guitar improvisation rends the track to pieces. "I Mourn You" is thirteen minutes of a similar brew, while "How To Survive" is an extended Swedish folk chant built around sleepy-eyed percussion and what sounds like a saxophone impersonating an old, croaking hurdy-gurdy.
All of Pärson Sound/International Harvester/Harvester's records have been recently re-released in one form or another, with Sov Got Rose Marie finding berth with the independent Swedish label Silence Recordings and finally emerging on compact disc in 2006. This is perhaps one of the definitive documents of 1960s Sweden, and an essential record for anyone interested in the more experimental and stimulating strains of acid rock. Hell, even on the most cursory listen it doesn't take long to realize that International Harvester was truly a band ahead of its time, and one long overdue for popular rediscovery.
mp3: The Runcorn Report on Western Progress
mp3: Sommarlåten (The Summer Song)

Reissue | 2006 | Silence Recordings | buy from amazon ]


Original | 1969 | Love Records | search ebay ]


Spotify link | listen ]
Also Recommended