Ithaca "A Game For All Who Know"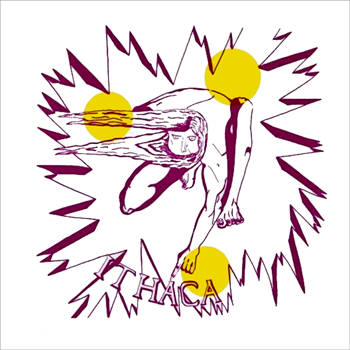 Though only one record was ever released under the name Ithaca, the band actually has a rather lengthy history which encompasses four different LPs. The band's roots lay in the British folk duo Peter Howell and John Ferdinando, who put out two obscure albums in the late 1960s under their own names before pulling their act together into the band Agincourt. That band's Fly Away, released in 1970, was a gently magnificent slice of cosmic folk-rock which highlighted the ethereal vocals of Lee Menelaus. A Game For All Who Know is technically the follow-up to that unfortunately unheralded release, marked by a change in name (which probably didn't help the groups' momentum, if they had any at all by this point), and a somewhat darker atmosphere.
The songs on A Game For All Who Know tend to bleed into each other in a rather seamless continuum, giving the record the feel of a concept album. All in all, it's a relaxing trip. Though "The Journey" opens rather auspiciously with an explosion, the buzzing of insects, and what sounds like a soaring air raid siren, it soon dissolves down into a beautiful wash of gentle cymbal crescendos and finger-picked guitars. Droning vocals are kept relatively low in the mix, making the overall sound a little disorienting but also emphasizing the engaging instrumental textures which underlay the songs. According to the liner-notes on the Acme Lion reissue, the band decided during the recording of this album that their material had gotten too complicated and involved to perform live.
The sound of the record has more to do with chiming 1960s U.K. folk rock than it does with most of Ithaca's progressive-leaning contemporaries. Jangling acoustic guitars provide the bedrock around which most of these songs are written, and instrumental flourishes tend toward flutes, Gilmour-esque slide guitar runs and organ trills that never escape their place as accents. Even the record's eight-and-a-half minute centerpiece "Times" floats on a quietly-tumbling Bryter Layter atmosphere before picking up the pace into a bright, country-rock groove. The cosmic "Dreams" is perhaps one of the album's most unsettling moments, in which traces of jazz piano melt and bleed into clouds of fuzz guitar before light ivory arpeggios bring the proceedings down into a rather sudden fade-out. Cut to the lengthy, record-closing reprise of "The Journey," introduced by the sound of pages turning and a a burst of flamenco guitar before sampled NASA radio chatter announces that "Houston, we are underway" and Ithaca returns to the spaced-out balladry that by now has clearly been revealed to be their forte. It's only in the introduction of weird, rudimentary synthesizer harmonies on this cut that the band starts to push into standard prog territory, though they redeem themselves a little later in the piece as it begins to slide out into a super mellow, freestyle improvisation.
The band would release one more record, this one under the name Friends and being more of a Peter Howell project than anything. Howell was also spending more and more time as a composer at the BBC Radiophonic Workshop (where he would go on to compose the second Doctor Who theme, released as a single under his own name in the late seventies), and slowly the loose amalgam of musicians that had made up Agincourt, Ithaca and Friends ceased recording formally together. They left an impressive run of musical testaments, however, and A Game For All Who Know is worth checking out. Though it was only released in a limited run of ninety-nine LPs back in 1973, the aforementioned Acme Lion edition is readily available for anyone down to take "the journey."
mp3: Questions
mp3: Peace of Mind

Reissue | 2008 | Lion | buy at amazon ]
Also Recommended