Jerry Jeff Walker "Bein' Free"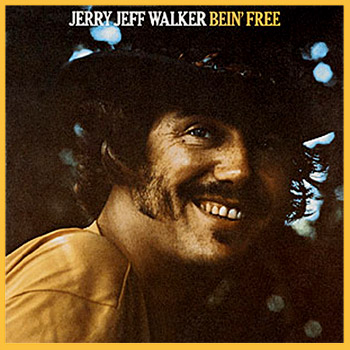 This one, his 4th solo, was recorded after Mr. Bojangles, Driftin' Way of Life, and Five Years Gone. He would imprint his legacy on the next one, Jerry Jeff Walker (an Austin masterpiece), but bridge from his drifter-folk career with Bein' Free, by no means just a three star record.
He kicks it off with a customary party track, "I'm Gonna Tell On You." This song embodies the "gonzo" sound, with a crew hollering background choruses and one-liners, a perfectly loose feel, boozy grin on your singer's face. "Stoney." "Nobody's." "But For The Time." Hard not to fall for the heartfelt Jerry songs. "Harmonica Talk" is pretty awesome, a trio of hambone, jaw harp, and harp riffs. "Please Let Me Be" is especially interesting with sandpaper blocks, harpsichord, and some fantastic pipey (synth?) sounds I can't even make out.
"Some Go Home," one of "Jerry Jeff's train songs" was the track that got me early on; JJ's no slouch on a storyteller and this is kind of a precursor to "Desperados." Bein' Free is a special album, the kind that benefits from vinyl's hum and crackle. I'm sure the CD sounds just fine.
Q: Any other fans out there? Care to list your top three JJW songs or records?
Audio clip: Adobe Flash Player (version 9 or above) is required to play this audio clip. Download the latest version here. You also need to have JavaScript enabled in your browser.
"Some Go Home"

MP3 Album | download Bein' Free
]


Original Vinyl | 1970 | ATCO | search ebay ]


Spotify link | listen ]
Also Recommended