Jimmy Buffett "High Cumberland Jubilee"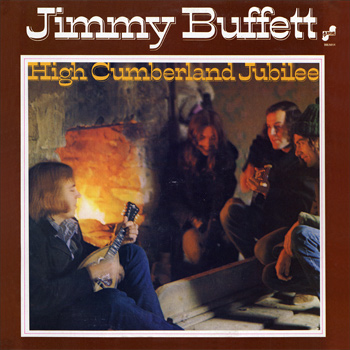 Today we delve into yet another unexpected gem by an artist that is usually considered anathema to any discerning aficionado of American popular music. Long before Jimmy Buffett started scoring big in the top-twenty with insipid margarita beach music he was cutting weird, electric folk-rock records and hanging out with folks like Steve Goodman (yeah, that's him on the cover of Somebody Else's Troubles) and Jerry Jeff Walker. Nowadays Buffett doesn't even acknowledge these earlier records, though they have been kept in print under a seemingly-endless number of guises on his own Margaritaville Records.
The second and, unfortunately, last of these, 1976's High Cumberland Jubilee, is a killer, even though it remained unreleased until three years after it was recorded. The sound of the band here lays somewhere between psychedelic country-rock and late-sixties power-pop, with lots of weird phased drums, banjos, and twelve-string guitars. Heavy attitude everywhere, believe it or not. The production is pretty well-polished, but hardly overproduced; there's just the right amount of definition between the instruments to keep things clean, which actually proves to be a beautiful thing when the band leaps into its little instrumental breaks, such as that which closes the record. The most relaxed pieces here definitely call to mind the man's aforementioned folk-rock affiliates, but also have a touch of starry-eyed Gordon Lightfoot polish to them that you don't normally find on records like this one.
As one might expect, Buffett's songwriting tends to be hit-and-miss here. There are some light and entertaining moments, with slight-but-eventually-memorable lyrics, some good shots at obtuse sixties social commentary, and then some numbers which read like failed assignments from Songwriting 101; cliché, dragged-out, full of tired juvenile romanticism. It's too bad that any chance to hear the singer mature as a songwriter was cut short by his untimely descent into artistic oblivion.
The unfortunate side to some of the reissues of Down To Earth and High Cumberland Jubilee is that Buffett has taken to cutting out the first song of the former, a relatively-scathing indictment of Christian hypocrisy which he today, as beachfront-yuppie-poster-child, presumably suspects will hurt his image. If you can track down original copies of these records, which looks to be a difficult task, snatch them up because, despite all the faults to be found here, there really is a lot to enjoy. Plus you get to see the look on your friends' faces when you suggest breaking out some Buffett (and they thought they knew you so well).
mp3: England (As the Sun Went Down)
mp3: Travelin' Clean

Original | 1975 | Barnaby | search ebay ]


Spotify link | listen ]
Also Recommended