J.J. Light "Heya!"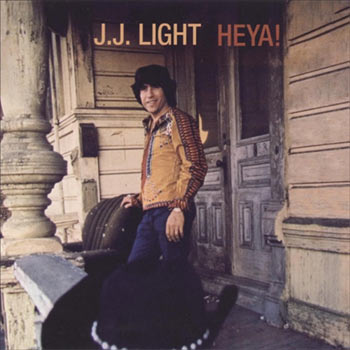 J.J. Light is actually Jim Stallings, former bassist of the Sir Douglas Quintet, who played on the excellent Mendocino lp onwards. Prior to 1969's Heya, Stallings released some singles in the early 60's which are reportedly in a doo-wop style. The notorious Bob Markley had some involvement with the Heya lp, as he supposedly wrote some of the album's lyrics and coined the J.J. Light name.
Heya is a diverse program that rocks hard in spots but also showcases a unique brand of music that is no doubt influenced by Stallings' Native American roots. Both Na Ru Ka and Heya combine hard rock and ethnic influences into something that's new and refreshing. I have heard other reviewers describe Stallings' music as "hypnotic" though I hear more of a hard rock sound that's laced with country and folk roots. Sure, there are a few excellent psychedelic cuts that will catch your ear first, like the rollicking It's Wednesday and the acid fried country-rocker Gallup, New Mexico. The fuzz propelled, late period garage rock track Follow Me Girl is also top of the heap. But folk-rock and country numbers Silently Sleeping and Hello, Hello, Hello give the album its diversity and display a strong Bob Dylan influence. All the above tracks are fine statements indeed, though this album has major grower qualities that might not be apparent upon first listen.
The recent Sunbeam Records reissue (there is also a CD Baby reissue) includes an unreleased 2nd album from 1969 that Stallings had been keeping on a dusty shelf. After his recording career as J.J. Light, Stallings played bass for the band Truth, who released the trippy P.S. (Prognosis Stegnosis) 45. While being a part of Doug Sahm's band, Stallings and the group also released an lp without Doug's involvement entitled Future Tense by the Quintet. In it's day the Heya album was hardly known in the States (it was never issued in the U.S.), so it was somewhat strange when the lp sold large numbers in Europe, Japan, South America, and New Zealand. Definitely a solid 4 star record, Heya is truly a lost gem by one of rock's unknown legends.
Audio clip: Adobe Flash Player (version 9 or above) is required to play this audio clip. Download the latest version here. You also need to have JavaScript enabled in your browser.
"Hello, Hello, Hello"

CD Reissue | 2007 | amazon
]


Orig Vinyl | 1969 | search ebay ]
Also Recommended