John Berberian "Middle Eastern Rock"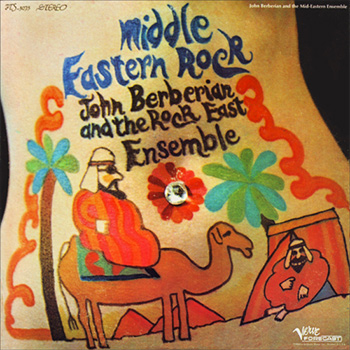 During the 1960s it seemed as though every western musician worth their salt was experimenting with Eastern instruments. In most cases this did not extend beyond the sitar, an Indian instrument introduced to the Occident by British bands like the Beatles and the Kinks (god bless colonialism, indeed), but in a number of cases western musicians took this interest one step further and began to explore the Eastern world's abundant wealth of stringed instruments. American players like Sandy Bull and David Lindley were at the vanguard of this new artistic swing, laying instruments like the oud onto North American musical patterns and coming up with new and exciting sounds. A somewhat lesser-known member of this movement was John Berberian, a serious, virtuosic oud player of Armenian ancestry who recorded a series of genre-bending records in the sixties, key among these being 1969's Middle Eastern Rock.
This record is a seemingly effortless amalgam of Armenian, Greek, and American musical forms, not to mention the sounds of "the Druze tribe of Northern Africa" (as per Berberian's sleeve notes) most aptly demonstrated on the six-and-a-half minute opener "The Oud and the Fuzz." As its straightforward title would suggest, this side pits Berberian's nimble oud work against Joe Beck's whirling electric guitar which, about halfway through, does in fact roar into an incisive fuzz-tone. The net results are quite extraordinary, the band successfully weaving together contemporary psychedelic rock and middle eastern jazz. The west coast group Kaleidoscope may have made some iconic recordings with the oud and the saz, but rarely did they manage a sound as beautifully cohesive and technically stunning as this.
There really aren't any bum notes on this record. "Tranquility" delves into a floating Armenian melody showing off the group's ear for tasteful improvisation, while on "Chem-oo-Chem" (the one vocal track in the collection) Berberian's ensemble takes on a popular Armenian folk song and throws in a jagged electric guitar solo. Honking saxophone riffs lay easy across a bed of middle eastern percussion. "The Iron Maiden" has a righteous oud and saxophone introduction before burrowing deep into the "middle eastern jazz" sound mentioned previously (shades of Ahmed Abdul-Malik). Though I can't say that any of the arrangements here would give Monk or Mingus much to write home about, the tunes themselves maintain a propulsive rhythmic drive that keeps the proceedings ever pushing onwards into the next grooves.
It's too bad that Berberian never got the chance to cut another record in this vein, though from what I hear there is much to love on his earlier, more traditional oud recordings from the early sixties. The man himself is still around and as active as ever, running his own record label and performing the odd concert or benefit – in the rare instance that he happens to be in town, don't pass up the opportunity to catch this legend perform.
Audio clip: Adobe Flash Player (version 9 or above) is required to play this audio clip. Download the latest version here. You also need to have JavaScript enabled in your browser.
"Iron Maiden"

Original | 1969 | Verve Forecast | search ebay ]


Reissue | 2008 | Revola | buy ]
Also Recommended