John Cale "Vintage Violence"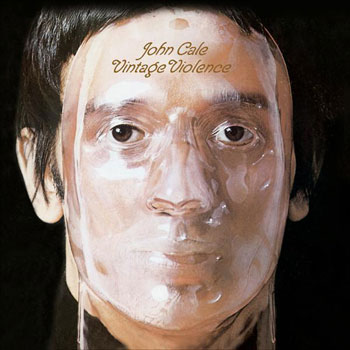 I was listening to a Paul McCartney album the other day, thinking about how when you listen to his solo work, you can then go back and hear just what his contributions were to the Beatles. More likely, you don't even have to go back, if the Beatles albums are as ingrained into your head as they should be. We get that same opportunity with John Cale and the Velvet Underground, listening to Cale's brilliant Vintage Violence.
Granted, John Davies Cale left the VU after finishing their second album, but you can tell they missed out on a good thing. This record, unlike the surprising cover would imply, is a perfect pop gem. You might think you'd be getting into a full LP's worth of Sister Ray type viola droning and electric mayhem, but Cale proves he's got mad pop song skills to match his solid, driving piano stomping.
No doubt some of these songs should have been hits. That's what we're here for though; I've got ten bucks that says a song from this album ends up in the next Wes Anderson film (editors note: fail), and if I had to pick one I'd probably go with Amsterdam, certainly a competitor to The Zombs' The Way I Feel Inside.
If you are into Brian Eno this is going to be very essential for you. John Cale would go on to create more wonderful music and produce some seriously classic albums, so get started here.
Audio clip: Adobe Flash Player (version 9 or above) is required to play this audio clip. Download the latest version here. You also need to have JavaScript enabled in your browser.
"Big White Cloud"
Also Recommended