John Prine (self-titled)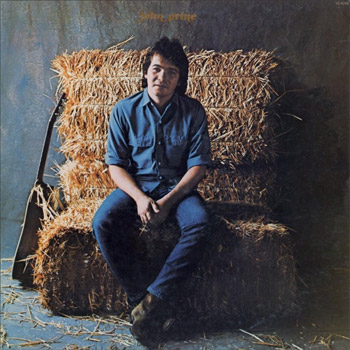 John Prine has had a long and distinguished career as a songwriter working the line between folk and country. As is so often the case, he made his biggest mark with his first album, released in 1971. After a stint serving in the army (always a great source for song ideas) Prine began playing open mic nights in his native Chicago. He comes from the same folk scene that produced Steve Goodman ("Ridin' on the City of New Orleans"). The first review of his work was penned by Roger Ebert, then a young Chicago critic. Other early supporters included both Kris Kristofferson and Bob Dylan.
It's not hard to see why Prine so quickly won the respect of great songwriters. His own talents put him in the same ballpark. The All Music Guide describes Prine's debut album as "a collection of standards," which isn't much of an exaggeration. The first song, "Illegal Smile," is a clever and endearing tribute to smoking marijuana—not necessarily an easy feat. ("A bowl of oatmeal tried to stare me down, and won. And it was twelve o'clock before I realized I was having no fun.") "Spanish Pipedream" is another gem. It's Prine's daydream about running off to the country with a sly exotic dancer to blow up the TV and eat a lot of peaches. ("I knew that topless lady had something up her sleeve.") "Hello In There" is a melancholy song about the loneliness of aging. What's amazing is how it rings so true despite being written by a 25-year old. ("So if you're walking down the street sometime and spot some hollow ancient eyes, please don't just pass 'em by and stare, as if you didn't care, say, 'Hello in there, hello.'") "Sam Stone" is a classic tune about the hopeless struggles of a veteran returning from the war to his family. ("There's a hole in daddy's arm where all the money goes. Jesus Christ died for nothing, I suppose.")
My favorite track on the album is "Paradise," Prine's loving tribute to the "backwards old town" in Western Kentucky where his parents were raised. The song combines his fond memories of visiting as a kid ("Where the air smelled like snakes and we'd shoot with our pistols, but empty pop bottles were all that we killed"), with realization that the place is now gone forever, "hauled away" by "Mr. Peabody's coal train." ("Then the coal company came with the world's largest shovel, and they tortured the timber and stripped all the land.") While it contains a strong environmental-protection message, it never sounds preachy.
The album has many more high points. "Pretty Good" is sort of an anthem to resignation. (Refrain: "Pretty good, not bad, I can't complain, actually, everything is just about the same.") "Your Flag Decal Won't Get You Into Heaven Anymore" is an amusing anti-war song about empty patriotism. "Angel From Montgomery" is a classic tune which later became a hit for Bonnie Raitt. Musically, the album sounds great, with some nice pedal steel and organ in just the right spots. It's a classic.
Audio clip: Adobe Flash Player (version 9 or above) is required to play this audio clip. Download the latest version here. You also need to have JavaScript enabled in your browser.
"Illegal Smile"

CD Reissue | 1990 | Atlantic | John Prine
]


Original Vinyl | 1971 | Atlantic | search ebay ]
Also Recommended