Kaleidoscope (US) "A Beacon From Mars"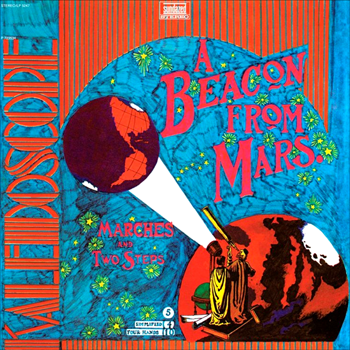 As good as Kaleidoscope's debut was (1967's Side Trips), A Beacon From Mars expanded on the group's sound greatly, as it includes two excellent "long" tracks: the Eastern instrumental jam "Taxim" and the ghostly blues-rocking title cut, which is full of feedback and excellent harp work.  These two tracks were cut live in the studio with no overdubs or studio interference.  Chris Darrow explains, "We needed an album that really sounded like us live, not a stacked, layered sound that was so prevalent. We decided to record the way only jazz musicians were recording, live" (taken from the Edsel reissue liner notes). Needless to say, this conscious effort to capture the group in true form is a success, as both cuts are amazing, showing off Kaleidoscope's legendary eclecticism and peerless musicianship. "Taxim" is an astonishing Eastern folk instrumental that builds into an exciting crescendo unlike anything you've heard before. Incredible stuff.
Kaleidoscope were some of the most accomplished musicians of their day – up there with the best San Fran had to offer (ie. Grateful Dead, Quicksilver, Moby Grape and so on).  Chris Darrow, principal songwriter, is one of LA's most underrated musicians, he penned fine 3 minute pop songs while David Lindley and Solomon Feldthouse mastered a variety of strange, stringed instruments.  Remaining cuts like "I Found Out," "Greenwood Sidee" and "Life Will Pass You By" are exciting roots excursions that mix folk, country and psychedelia into something that's genuine and authentic.   Other than being a standout acid folk-rocker, "I Found Out" is also notable for a cool dobro solo and what sounds like primitive synthesizer.  Another great track is the excellent Smokestack Lightning rewrite "You Don't Love Me."  This track features incredible graffiti-like lead guitar (with lots of bluesy fuzz) while the aforementioned "Life Will Pass You By" is a beautiful Byrds-like folk-rocker with accomplished finger picking (think Byrds crossed with early Nitty Gritty Dirt Band).  The only misstep here is a rather lame attempt at good time/jugband music titled "Baldheaded End Of A Broom."  My pick of the bunch is "Greenwood Sidee."  This track is actually an Irish murder ballad, a tremendous one at that, with stoneface vocals and an eerie acidic vibe -no doubt aided by effective fiddle work.   This is one of my favorite lps.
This would be Chris Darrow's last LP with Kaleidoscope.  After Beacon he would join the Nitty Gritty Dirt Band and also release a few solo discs.  David Lindley and co. soldiered on releasing the fine Incredible! from 1969 and the disappointing Bernice.  Edsel reissues are pretty hard to come by these days but the recent box set Pulsating Dream is highly recommended as it features all their classic albums and rare non-lp singles.
Audio clip: Adobe Flash Player (version 9 or above) is required to play this audio clip. Download the latest version here. You also need to have JavaScript enabled in your browser.
"Life Will Pass You By"

CD Reissue | Box Set | 2004 | Acadia | at amazon ]


Vinyl Reissue | 2008 | Sundazed | buy at sundazed ]
Also Recommended