Kaleidoscope (US) "When Scopes Collide"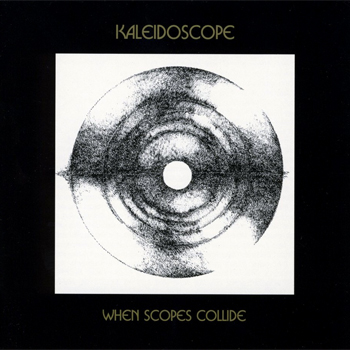 Though it is generally written off as a failed reunion album, Kaleidoscope's When Scopes Collide really does demand re-evaluation. Though the record was released six yearsafter Kaleidoscope's disastrous swan song Bernice, this is not the work of a band that has lost its way. In fact, I would go so far as to argue that When Scopes Collide reveals a group that has not only gained a new lease on life, but has managed to reclaim some of the carefree, communal spirit that had, over time, become less and less apparent in their recorded output. Some of the credit here may be due to multi-instrumentalist Chris Darrow, who finally returns after having jumped ship in the wake of 1968's A Beacon From Mars.
Some folks have criticized this album as being too "rock and roll," presumably having hoped for a half hour of lysergic middle-eastern breakdowns. Might I remind these unfortunate listeners, however, that good-old-fashioned rock and roll was always a major part of the Kaleidoscope sound and, though their legend may have been cemented through their innovative use of eastern instruments and rhythms, their more exotic numbers were always outnumbered by their ventures into traditional American musical forms. The band's strength has always lain in their willingness to cross-pollinate between east and west, whether by laying down whirring shahnai lines across an old Coasters novelty hit like "Little Egypt," or arranging "Ghost Riders In the Sky" around a haunting oud and lap-steel duet.
Having said all that, however, I will admit that the most transcendent moment on this record does in fact come on the cut with the strongest middle-eastern influence. Solomon Feldthouse's "It's Love You're After" is a hazy, nine-minute tapestry of saz, oud, kemenche, piano, doumbag, violin, gudulka and steel guitar. This may very well be one of the band's great masterpieces; an epic descendant of earlier Kaleidoscope classics such as "Egyptian Gardens" and "Lie To Me." Not even an awkward attempt at a percussion solo halfway through is able to dampen the magic.
This record was originally released on Michael Nesmith's Pacific Arts Records, but in 2005 the German roots-music label Taxim reissued both When Scopes Collide and Kaleidoscope's second reunion effort, Greetings From Kartoonistan…We Ain't Dead Yet. It would appear that both are still available, though those of you in the Americas are probably going to have to fork over a little extra in shipping. It's more than worth it, though; if you dug the first few Kaleidoscope records there's a good chance you'll find something to enjoy in this collection. Keep your mind open.
Audio clip: Adobe Flash Player (version 9 or above) is required to play this audio clip. Download the latest version here. You also need to have JavaScript enabled in your browser.
"So Long"

Reissue | 2005 | Taxim | buy here ]


Original | 1976 | Pacific Arts | search ebay ]
Also Recommended