Lee Hazlewood "Love and Other Crimes"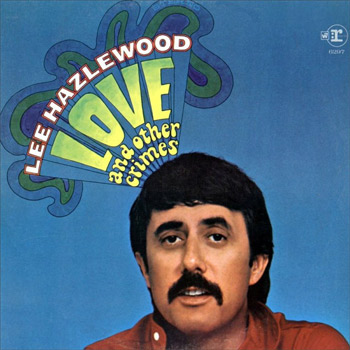 Shortly after the release of the million-selling Nancy & Lee, Lee Hazlewood exercised his newfound clout with Reprise and headed to Paris to record a new solo album. Along for the ride were rhythm guitarist extraordinaire Donnie Owens and Wrecking Crew members James Burton, Hal Blaine, Chuck Berghofer, and Don Randi. If Hazlewood's stream of consciousness notes on the back of the album are to be believed, they lived the life of the jet set, their days and nights a bacchanal of fine wine, beautiful women, and Lotus Europas with all the extras. Fortunately for us, Hazlewood and crew still managed to find the time to record the stunning Love and Other Crimes.
A baroque precursor to his minimalist Requiem For An Almost Lady, Love and Other Crimes finds Hazlewood in a reflective mood, sifting through the ashes of a love gone wrong. Yet the album isn't all loser's tears and raindrops – by the end of side two, Hazlewood is unbowed, undefeated, and above all, unrepentant.
This is prime Hazlewood and essential listening for fans of the man and his work. With its sophisticated production, this is a truly great sounding album, and at just under thirty minutes, it demands to be listened to from start to finish. James Burton and company effortlessly shift from country-fried pop to jazzy lounge to elegant ballads and back again. Among the inventive arrangements, "She Comes Running" and "Pour Man'" successfully pair twangy guitar and harpsichord, with "Pour Man'" coming off like a mash-up of Merle Haggard's "Mama Tried" and Paul Mauriat's "Love Is Blue." And you haven't heard Burton's trademark volume swell technique until you've heard it on full display in "Rosacoke Street." Even Chuck Berghofer's distinct upright bass work deserves special mention – listen for his famous "These Boots Are Made For Walkin'" bass slide at the end of "Pour Man'."
Tracking down an original copy of this album is highly recommended – to these ears, Hazlewood's voice has never sounded better. Although Love and Other Crimes doesn't appear to have been reissued as a stand-alone CD, tracks from the album are available on several compilations. However, note that the import LHI compilation, which inexplicably shares the same title and cover art as Love And Other Crimes, only contains four tracks from the album. A better bet is Rhino Handmade's two-disc Strung Out On Something New, which presents Hazlewood's three Reprise albums in their entirety, as well as a handful of hard‑to-find singles produced by or featuring Hazlewood.
Audio clip: Adobe Flash Player (version 9 or above) is required to play this audio clip. Download the latest version here. You also need to have JavaScript enabled in your browser.
"Forget Marie"

Original Vinyl | 1968 | Reprise | search ebay ]


CD Reissue | 2008 | Rhino Handmade | 2CD Comp | buy here ]
Also Recommended