Lee Hazlewood "Requiem For An Almost Lady"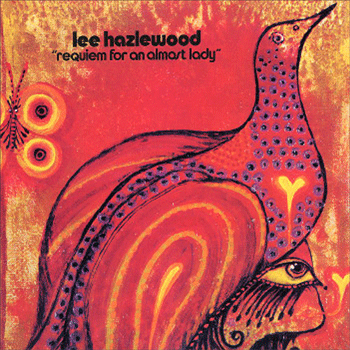 The mother of all break-up albums. Hazlewood had just hit middle age at this point, so I'm sure he was already up to his neck in heartbreak. Bad for him. Good for us – because it supplied him with all the ammunition he needed to slug us in the heart with this surprisingly poignant and honest portrait of a broken man and the cold women who left him this way.
Released only in Sweden and the UK (making it pretty damn rare), this is the album where he makes his shrink proud by getting it all out. The 'almost-lady' actually represents all the ladies he's lost over the years.
We find him revisiting the spoken interludes between tracks that graced his first two albums (Trouble is a Lonesome Town, The NSVIP's), but on this one he keeps them short and not so sweet over some rather doomy guitar strumming.
It maintains, for the most part, a psych-tinged folk/country feel not too dissimilar from his late 60s releases, except this time drums are eschewed for a minimal arrangement of mainly acoustic guitars and bass. But there's never an empty moment as any void is adequately filled by Jerry Cole's stunning bass lines. Allow them to give you goose bumps on the tremendous "I'll Live Yesterdays," which is definitely the strongest track on the record. Hazlewood's lyrical genius really shines here – simply impeccable. The hurt keeps on spilling from that inimitable deep gravelly voice on the reflective weepers "If it's Monday Morning" and "Won't You Tell Your Dreams."
Too bleak for you? Don't forget who it is we're talking about here. While it's unquestionably a sad album, the perpetually jilted Hazlewood's pop sensibilities still reign, turning even his most lashing fits of hostility into irresistible sing-a-longs. It's hard to not crack a spiteful grin and join in on a chorus that spits "I'd rather be your enemy, than hear you call me friend." And the countrified rockers "LA lady" and "Stone Lost Child" offer a nice balance, kicking things up to a galloping pace.
In anyone else's hands material of this sort probably would have resulted in a self-indulgent whining session or a pointless diatribe. But Lee manages to successfully assemble his emotions into a meaningful and coherent stream of songs. All the bitterness he expresses is perfectly tempered by streaks of vulnerability, loneliness and regret.
Requiem for an Almost-Lady and a few of his other classic LPs were reissued on Smells Like Records
Audio clip: Adobe Flash Player (version 9 or above) is required to play this audio clip. Download the latest version here. You also need to have JavaScript enabled in your browser.
"I'll Live Yesterdays"

CD Reissue: 1999 | Smells Like Records | Buy @ Amazon
]


Vinyl Search @eBay: Search Lee Hazlewood ]
Also Recommended