Les Fleur De Lys "Reflections"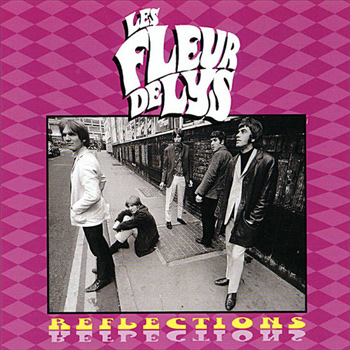 As Britain's "other" major Atlantic seaport, Southampton might have been expected to produce a stream of pop and rock successes to rival Liverpool during the Golden Years, but it didn't happen. Probably the highest-profile outfit to emerge from the south coast seaport during this period was Les Fleur De Lys, certainly the only such with a grammatically-incorrect French name. Like their near-neighbours, Brighton's Mike Stuart Span, they enjoyed a chequered history involving half–dozen lineups, dabbling in half-a-dozen genres, sporadically releasing a dozen or so singles and finally fragmenting in frustration after half-a-dozen years (1964-1970). Again like the Span, they never contrived to issue an album in their lifetime, but the present CD is a compendium of all their  singles from their earliest Beat Boom days through their freakbeat, blue-eyed soul, harmony-pop, psychedelic and nascent prog-rock phases. Their legacy remains a handful of classic freakbeat and psych A-sides, and their other main claim to fame is as a launch pad for guitarist Bryn Haworth's subsequent career; he would morph into perhaps Britain's finest electric slide player and thence become a doyen of Christian rock music in which field he remains very active.
The Fleurs could in fact boast some pretty substantial musicianship throughout their various incarnations. Drummer Keith Guster, the only ever-present member, could hold down a metronomic funky beat whilst bassist Gordon Haskell, who would move on to King Crimson, had formidable rock and soul chops. Haworth's predecessor Phil Sawyer was also a fine player in a reckless Jeff Beck style, whilst Haworth himself boasted a fluid bluesy technique and a distinctive, piercing Stratocaster/AC30 sound. They were a top live draw around Swinging London, acting as backing band live and on disc for singer Sharon Tandy and supporting such esteemed and varied visiting headliners as the Beach Boys, Isaac Hayes and Aretha Franklin. In an attempt to break through chartwise they also recorded under various pseudonyms including Shyster, Waygood Ellis, Rupert's People and Chocolate Frog (!). Several of the early singles were produced by one Jimmy Page, no less.
The twenty-four tracks of the present compilation include the A's and B's of all seven singles issued under their own name, the Tandy sides and all the sides released under the fake monikers. The early Beat-era stuff and the soul-based tracks are pretty disposable; the Fleurs were no Young Rascals, nor despite the presence of a couple of competent organists in the early lineups were they anyone's Procul Harum. However the Page-produced freakbeat cover of Pete Townshend's "Circles" and its follow-up "Mud In Your Eye" forefront Sawyer's fine manic lead guitar licks, whilst "Gong With The Luminous Nose" and "Liar" are fine examples of Brit psychedia and guitar-led prog respectively with Haworth's exemplary Hendrixoid fretwork to the fore. The two Sharon Tandy sides "Hold On" and "Daughter Of The Sun" are rip-roaring rockers, with the powerful backings complementing Tandy's steely vocal and Haskell's bass work on "Hold On" a revelation. On the rock and pop tracks the instrumentation and vocals are more than competent but the songwriting is passable at best and sometimes mediocre. The result is a fascinating 24-track collection of historical interest to Sixties rock completists, but which would have made a really good "best of" if reduced to sixteen cuts.
Originally issued on CD by Blueprint in 1996, the present Gonzo budget reissue has the same track listing but a different cover photo. The typo-strewn track listing and historical perspective in the booklet notes are not exactly academic masterpieces, but better ones can be found.
mp3: Circles (Instant Party)
mp3: Gong with the Luminous Nose

Compilation | 2010 | Gonzo | buy here ]


Spotify link | listen ]
Also Recommended