Les Sinners "Vox Populi"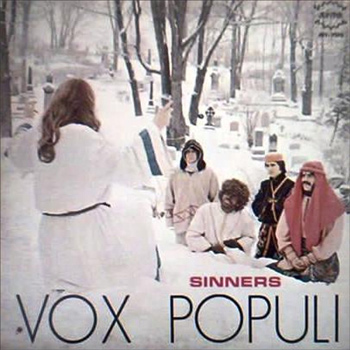 Original copies of this lp are fairly expensive, sometimes selling on ebay for a few hundred dollars. It's worth it though, as Vox Populi is one of the great early concept lps and definitely one of the best French-Canadian albums bar none.
A little history on the band known as Les Sinners: they started out in Quebec during the mid 60s and before Vox Populi released two garage pop albums in 1967, their half French/half English-sung debut Sinerisme was an excellent, defiant effort that combined rowdy fuzz rockers with attractive garage pop numbers. The similarly titled Sinnerismes followed the debut album and while not as strong as the aforementioned record, it was still a respectable slab of garage pop. Vox Populi or "voices of the people" was the group's highwater mark, a superb concept lp centered around life and people's attitudes toward everyday situations. This 1968 release was sung entirely in French though it's interesting to note that a recent English version cd reissue of Vox Populi (25 Succes En Anglais) appeared in the early 1990s! Both versions are recommended and differences between the two are very few. Only the French version of Everything Will Be Fine (Le Fou Du Roi) may have the edge over its English counterpart because it begins and ends with cool, distorted vocals.
Vox Populi bears a strong resemblence in sound to the Who's Sell Out lp and shares a concept similar to that of the Kink's Face to Face album. Many of the songs are 2.5 to 3 minute pop-art gems and the album displays a good stoned sense of humor throughout. It's almost useless to pick out key tracks as Vox Populi is very consistent and individual. Everything Will Be Fine, Nothing Is Happening, and Today, Tomorrow are all strong psych pop tracks with good atmospheric vocals, an "english feel" and a nice, trippy production. Other hard rocking highlights are the muscular, lean rocker Late and the brilliant Don't You Run Away. Don't You Run Away is a killer fuzz laden psych punker that sounds similar to a really good cut off the Outsiders' C.Q. or the Pretty Things' S.F. Sorrow. Another strong track, The Days Are Gone is a superb melancholy rocker that harkens back to an earlier time in rock history.
Les Sinners would go on to release another album or two during the progressive rock era though none of them matched the greatness of the debut or the legendary Vox Populi.
Early Sinners:
mp3: Sour as a Sidewalk
Vox Populi:
mp3: The Days Are Gone (Anglais)
mp3: Le Fou Du Roi (Francaise)
mp3: Don\'t You Run Away
mp3: Today, Tomorrow

Original Vinyl | Jupiter | search ebay ]
Also Recommended