Link Wray "Bullshot"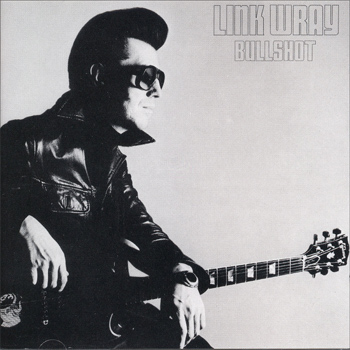 Link Wray, who is considered by many to be one of the greatest and most important rock & roll guitarists of all-time, is a pretty familiar name with rock fans all over the world.  The man practically invented distorted, fuzzy, and wild rock guitar sounds.  He was one of the first, if not the first, guitarists to use the almighty power-chord.  Pete Townshend has famously cited Link's importance, claiming that "he is the king;  if it hadn't been for Link Wray and 'Rumble', I would have never picked up a guitar."  By the way, "Rumble" has since been added by the Library Of Congress to the National Recording Registry.  Important stuff.  Link recorded tons of material throughout his long career, with most of it being great.  There's just something about "Bullshot," this dusty little fiery gem from 1979, that really stands out.
Recorded in NYC with Richard Gottehrer on production (need we say more?), this album is an atomic-bomb of a record, combining Link's nasty rockabilly/psycho/mean/whatever-you-want-to-call-it guitar licks backed with some of the very best rhythm players I have ever heard.  Anton Fig, drummer extraordinaire, plays with such intensity and power.  The same can be said for Rob Stoner, who has played with countless people.  The bass playing on this album is a real ear-opener and jaw-dropper.  When deciding which categories I was going to put this album under, I had no hesitation to add "punk" to the list.  Sure, this may not be a straight-up punk rock album by definition, but the playing is so dirty and intense that it really does sound like a punk album!
Right from the beginning, you know you're going to be in for a treat.  "Good Good Lovin'" starts off the album, and kicks everything into gear preparing you for the rockin' ride the album sends you on.  "Fever" is one of the best versions of the song out there, giving it almost a strut or swagger about it, and a whole new vibe.  "Switchblade" is one hell of an instrumental, combining Link's wild ehco-laden and distorted-to-the-max guitar and a rhythm backing not too far removed from the tune of "Peter Gunn".  Side two is where the real magic is; Link's cover of Bob Dylan's "It's All Over Now Baby Blue" kicks off, and is something that needs to be heard to be believed.  Link executed this cover perfectly: adding his own twist to it, yet retaining the credibility and beauty of the original.  It was almost as if Link may have had the power-pop urgency of  "Baby Blue" by Badfinger in mind.  The guitar work in this song is positively amazing; he is just making every string scream and strain with so much power it leaves you speechless.  Link even gave us an extra treat of doing a new punked-up cover of his classic "Rawhide," which again, is phenomenal and improves upon the original…somehow.  The other bright and shining moment on the record is the very last tune, a cover of Elvis Presley's "Don't."  At your first listen, you may not "get it" right away.  Give it a chance, and you will see the absolute brilliance Link gave this old '50' hit.  Pay particular attention to the guitar work at the very end of the song.  It sounds as if the song just decides to break down, explode, and go off to another planet.  Unbelievable.
Buying the album may be a bit tricky, especially if you need to go the digital route.  Your best bet, if at all possible, is to try and hunt down an original vinyl copy on eBay or scour the thrifts.  The album was reissued on CD as an import in the '90s, but it has become quite pricey.  Trying to track down a copy of this album is worth the effort, though.  This record has become a definite main-stay in my collection, and I often find myself going back to it time and time again.  It is rewarding and a joy to listen to each and every time I put it on my turntable.  I will say, that since owning this album, Link Wray has become one of my favorite guitarists of all-time, and it may just do the same thing for you.
mp3: It's All Over Now Baby Blue
mp3: Don't

Original | 1979 | Visa/Charisma | search ebay ]


Reissue | 1995 | Line | buy ]
Also Recommended