Lou Christie Sacco "Paint America Love"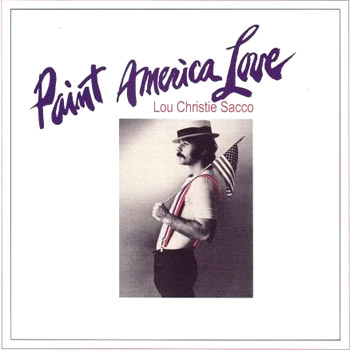 This is probably Lou Christie's greatest artistic statement to date.  Paint America Love was an ambitious statement by Christie, a total departure from the Four Seasons influenced bubblegum pop he had been releasing throughout the 60s.  His best known songs from the mid 60s were the hits "Lightning Strikes" and "Rhapsody in the Rain."   Christie was a truly great, underrated artist though and it's worth noting that he would reinvent his career from bubblegum to sophisticated pop to country, always with great success artistically and commercially. 
Paint America Love was released in 1971 on Buddah.  All the songs were written by Christie and they are a complex, sprawling mixture of pop and Americana.  The arrangements are adventurous and lush as heard on the gorgeous instrumental Campus Rest.  This was no doubt Lou Christie's Pet Sounds though in musical style, it's much closer to Sunflower or Surf's Up.  Christie's vocals are still wonderful (he has a magical falsetto) and a definite highpoint on this lp.   One can hear shades of his 60s work in the country-rocker Chuckie Wagon – there's some interesting fiddle and a great chorus on this one.  Some of these tracks take on ecological themes like the pop friendly "Paper Song" while others are a bit more complex like "Lighthouse," "Paint America Love" and "Wood Child."  Many consider these tracks the best of Lou Christie's career although after this lp he would release a good country lp which is also recommended (Beyond The Blue Horizon from 1973). 
But there are other pleasures to behold on Paint America Love,  like the astonishing Beach Boys inspired "Waco" and the achingly tuneful "The Best Way To See America."  Every track is inspired, the lyrics are personal and the songcraft is very strong.  Paint America Love was one of the best off-the-radar releases from 1971 – it's as good as early 70s pop gets.  The album finally saw a cd release by Re-Ola in 2008.
Audio clip: Adobe Flash Player (version 9 or above) is required to play this audio clip. Download the latest version here. You also need to have JavaScript enabled in your browser.
"The Best Way To See America"

CD Reissue | 2008 | Revola | buy at revola | amazon
 ]


Original Vinyl | 1971 | Buddah | search ebay ]
Also Recommended